UK economy ministers 'have never met Edwina Hart'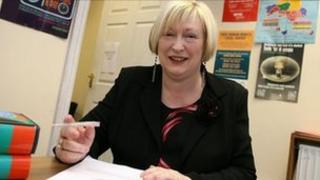 Two UK government ministers with senior economic roles have told MPs they have never met Welsh Business Minister Edwina Hart.
She was appointed by First Minister Carwyn Jones more than six months ago.
But UK Business Secretary Vince Cable and Trade Minister Lord Green told the Welsh Affairs Committee in Westminster they had not had a meeting with her.
A Welsh government source said a request by Mrs Hart to meet Dr Cable had been declined.
Dr Cable and Lord Green were asked about their encounters with Mrs Hart when they gave evidence to the committee.
Welsh Secretary Cheryl Gillan said Mrs Hart had agreed to meet her every six months, although she had hoped to arrange quarterly meetings.
Mrs Gillan told the committee that Mrs Hart would meet her twice a year - if the Labour assembly member considered "there is something we need to talk about".
'Very, very nice office'
A Welsh government source said later that Mrs Hart had asked to meet Dr Cable to discuss a proposed green investment bank, but that her request had been declined.
Ministers were giving evidence to an inquiry into inward investment.
Mrs Gillan told MPs that although the Welsh government had an office in Gwydyr House - the Whitehall headquarters of the Wales Office - she did not know how often it was used as it was possible to enter and leave without passing her own office.
But she said it was "a very nicely appointed office... it is a very, very nice office".
Mrs Hart had turned down an invitation to give evidence to the committee when it met at the assembly in Cardiff Bay in September.
She sent a two-sentence reply to the invite, saying: "I will not be attending."
Meanwhile, Dr Cable, the UK Business Secretary, told MPs that "Wales has done relatively badly" in recent years in attracting inward investment.
Giving evidence to the Welsh Affairs Select Committee, he said that Wales had suffered since "the boom of inward investment" in the late 1980s, and indicated that competition around the world emphasised the need for the Welsh and UK governments to work together.
Quality of life
Dr Cable insisted that joint working was essential and spoke of plans by Michelin to create 100 new jobs at a factory in Dundee in Scotland as a good an example of the UK government working alongside a devolved government to attract foreign investment.
He refused to be drawn when asked about the relative merits of the Welsh government plan to prioritise investment from key sectors including the creative industries and financial services.
"At the UK level we do not try and specify sectors... we're trying to attract as much as possible," he said.
Lord Green told the committee Wales could build on its "brand" in marketing itself to potential investors.
The peer said that the environment, quality of life and strong university sector could be attractive.
He also insisted the Welsh government could do do more in targeting the Welsh diaspora.