Western Mail boss: 'We're not for sale or going weekly'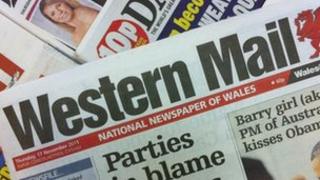 The managing director of Media Wales has ruled out selling the Western Mail or turning it into a weekly newspaper.
Alan Edmunds told assembly members that the company was facing the same problems of declining sales as newspaper publishers around the world.
There were "absolutely no plans" for the Western Mail to go weekly, he said.
At an inquiry in Cardiff Bay, he responded to speculation by the journalists' union that the paper could cease daily publication.
Since the National Union of Journalists made its warning last month, the Liverpool Daily Post - owned by the same parent company, Trinity Mirror - has announced it is going weekly.
Mr Edmunds said questions about the Western Mail doing the same were "hypothetical".
"I can't envisage a scenario, I can't see a scenario where it would make business sense for us to turn it weekly," he said.
He added: "I can categorically say that we have absolutely no plans, no intention, of turning the Western Mail weekly."
'Private company'
A member of the cross-party inquiry into the outlook for the media in Wales - Plaid Cymru AM Bethan Jenkins - has suggested the Welsh government could take the paper into public ownership.
But Mr Edmunds said: "We are a private company producing newspapers, websites for Wales. Wales needs that.
"Wales needs an independent, private, commercial news service and I think it would be all the poorer if it didn't have one.
"The idea of public ownership of those assets is based on very little substance.
"There's no question of us wanting to sell the Western Mail."
He invited assembly members to visit the Cardiff-based company.
And he said the business had invested in Wales, including spending £18m on a printing press in 2003, attracting 1m unique users to its Wales Online website every month, and campaigning for rail electrification and further devolution.
Media Wales, which announced 14 job losses last week, had no plans to shed more staff, Mr Edmunds said.
"If we were to make any changes then our staff would be the first to know," he said.