Cardiff councillor Neil McEvoy suspended over Facebook post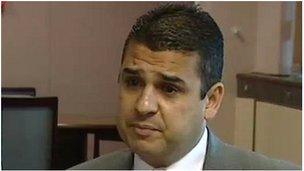 Plaid Cymru has suspended the party's deputy leader on Cardiff council after comments he made on Facebook.
Councillor Neil McEvoy used the website to accuse a women's aid group of "publicly funded child abuse" for supporting women breaking court orders on child access. It denied the claim.
Plaid AM Jocelyn Davies said she agreed with First Minister Carwyn Jones, who called the remarks "inappropriate".
Mr McEvoy stood by the comments and said he was being "smeared".
He also subsequently tweeted to ask for any complaints made to the council about him to be referred to the ombudsman.
The issue was raised in the Welsh assembly on Tuesday, prompting Mr Jones's criticism.
"I can confirm that a complaint has been received relating to Coun McEvoy," said Plaid Cymru chair Helen Mary Jones.
"Councillor McEvoy has been suspended from the party, according to our standing orders, pending the determination of the complaint by the membership panel of Plaid Cymru's national executive.
"As this is an internal party matter we will not be making any further statements on this issue at this time."
Cardiff Council's Labour group had already called for the council's leader Rodney Berman, a Lib Democrat, to sack Mr McEvoy from his position in the authority's coalition for his "disgusting comments about Welsh voluntary organisations".
After the Plaid decision, it added: "If he's been deemed unfit to remain a member of his own party, he simply cannot remain as deputy leader of our council."
Mr McEvoy used Facebook earlier this week to accuse Welsh Women's Aid (WWA) of "publicly funded child abuse" and claimed they supported women in breaking court orders on fathers' access to children.
The comments were the latest in a long-running dispute between the Plaid Cymru councillor, who represents the Fairwater ward, and WWA.
But WWA chief executive Paula Hardy has denied the allegations and urged him to produce any evidence "to support his claims to enable a thorough investigation to be undertaken through the proper channels".
"We are seeking legal advice on his comments," she added.
The charity Safer Wales has called for Mr McEvoy's resignation.
Mr McEvoy has claimed that "constituent members of Welsh Women's Aid and other groups support women who are breaking court orders."
Mr McEvoy added that he wanted the children's commissioner to look into the issue.
Paula Hardy from WWA has also said they had previously informed him of the charity's position on child contact, and it worked in line with the principles of the UN Convention of the Rights of the Child," said Ms Hardy.
She said that WWA and its members "recognise and advocate the importance of the father's involvement in their children's lives following separation, where involvement or contact does not present a risk to the child's welfare and the child's views and best interests are taken into consideration".
Related Internet Links
The BBC is not responsible for the content of external sites.