Public sector strikes disrupt Welsh assembly plans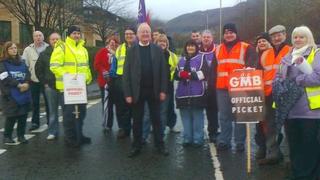 Public sector strikes have disrupted work in the Welsh assembly, forcing one of its two weekly plenary sessions to be cancelled.
The usual Wednesday afternoon meeting in the Senedd will not go ahead and committee meetings have been cancelled.
The Welsh government urged the Westminster coalition to get back to the negotiating table.
But Welsh Secretary Cheryl Gillan criticised union leaders, saying strikes would disrupt businesses.
The Conservatives and Liberal Democrats said their assembly members and staff were turning up for work as usual.
But Labour and Plaid Cymru said they would not cross picket lines into Ty Hywel, which houses AMs' offices.
The Senedd, which is normally open to the public, was closed on Wednesday.
Business in the chamber was brought forward to Tuesday or postponed until next week.
First Minister Carwyn Jones has a series of meetings during the day. A spokesman declined to say where they would take place, but said the first minister would not be in Cardiff Bay or the Welsh government's headquarters in Cathays Park.
'Tough time'
On Tuesday, Mr Jones suggested his administration would look into the idea of acquiring responsibility for the pay and conditions of public sector workers, saying a proposal from the chancellor for regional pay settlements for state employees was code for cuts.
A Welsh government spokesman said public sector workers faced "an extremely tough time" because of a two-year pay freeze, fuel costs, inflation and the threat of redundancy.
"We are particularly concerned about the impact the UK government's proposals will have on women, who make up the majority of low-paid public sector workers," he said.
"It is clear they will bear the brunt of the proposed changes to public sector pensions and we do not believe this can be right.
But Mrs Gillan said she was "quite angry with union bosses".
The action would "disrupt so many families, and children and businesses across Wales", she told BBC Wales.
"I regret that they are taking this action today for the simple reason that negotiations are on-going on this very, very sensitive subject," she said.
Although some Labour politicians are joining picket lines, in Westminster the party's MPs attended parliament.
Labour said party leader Ed Miliband would "hold the government to account" at prime minister's question time.
Two Welsh Labour MPs - Paul Flynn and Martin Caton - said they would not cross picket lines in a letter to the Guardian.
'Significant concessions'
Alun Cairns, the Conservative MP for Vale of Glamorgan, said the UK government had offered "significant concessions" after union members were balloted.
"I'm disappointed that the union leaders have stuck to their determination to come out on strike," he told BBC Radio Wales.
"When I speak directly to teachers and explain the detail of the enhanced scheme, they are pretty well impressed with the generosity of it particularly when we bear in mind the wider economic climate."
The Labour MP for Aberavon, Hywel Francis, said strikers were "fully justified and they have my support".
He said: "Rather than telling hundreds of thousands of workers - many of whom are low paid and part-time who are set to be much worse off - that they should not strike, David Cameron should be taking responsibility and try to negotiate a deal that's fair to all public sector workers."
'Gridlock'
Conservative transport spokesman Byron Davies criticised the closure of the Butetown Tunnel in Cardiff Bay due to industrial action.
Diversions left motorists facing lengthy delays during the Wednesday morning rush-hour.
"Commuters from all walks of life and all professions have been hit by the ensuing gridlock, along with businesses across the city," Mr Davies said.
Cardiff council said: "The tunnel has to be monitored in case of breakdowns or accidents.
"As a result of national strike action, this is not possible so the tunnel is closed for health and safety reasons, though every effort was made to keep it open."