Welsh government 'could take over' public sector pay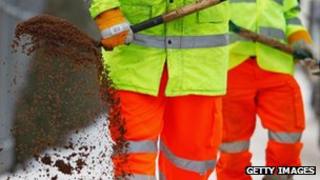 The Welsh government might look at whether it can take responsibility for the pay and conditions of public sector workers, says First Minister Carwyn Jones.
Chancellor George Osborne has announced a review into regional pay adjustments for the public sector.
Mr Jones said it could result in people in Wales being paid less to do the same work as people in south-east England.
"That's not acceptable," he said.
"Ultimately we may have to look at taking over pay and conditions here in Wales.
"It's not as easy as it sounds. There are real issues in terms of how that's done.
"But if we're forced into that situation, better that than have people's pay cut by the UK government in London."
Regional pay was "code for cutting pay in Wales", he said.
It is understood that some public sector workers will not be part of the review into regional public sector pay. They are members of the armed forces, dentists and doctors, and the judiciary.
Some 340,000 people in Wales work in the public sector.
Mr Osborne announced the review, to be completed next summer, in his Autumn Statement on Tuesday.
He also revealed public sector pay rises will be capped at 1% for two years.
Poorest pupils
The number of public sector jobs set to be lost across the UK by 2017 has been revised up from 400,000 to 710,000.
The Welsh government has welcomed an additional £216m to spend over the next three years on big capital projects.
Ministers in Cardiff will discuss how to spend the money with the Liberal Democrats, who agreed to support the Welsh government's budget in exchange for more being spent on the education of the poorest pupils.
Despite the windfall, the Welsh government says that by 2015 its capital budget will be half what it was in 2010.
Although he welcomed the extra cash, Mr Jones queried proposals to reform employment law and said the chancellor had failed to match a cut in the toll on the Humber Bridge with a similar cut for motorists crossing the Severn.
Welsh Secretary Cheryl Gillan said the Welsh government should use the £216m to "enhance growth opportunities," and called for it to offer more help to small and medium-sized businesses with their business rates.
"We are committed to building a strong, stable business climate and as part of the growth measures we have announced businesses across Wales will benefit," she said.