Cardiff councillor Neil McEvoy rebuked over Facebook post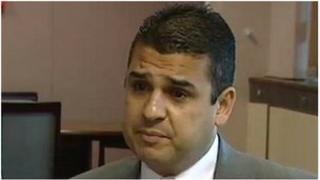 A Plaid Cymru AM has condemned a Facebook comment made by the party's deputy leader on Cardiff Council.
Councillor Neil McEvoy used the website to accuse a women's aid group of "publicly funded child abuse" for supporting women breaking court orders on child access. It denied the claim.
Plaid AM Jocelyn Davies said she agreed with First Minister Carwyn Jones, who called the remarks "inappropriate".
Mr McEvoy stood by the comments and said he was being "smeared".
Ms Davies said that as chair of the assembly's cross-party group on domestic violence she strongly agreed with the first minister's view that the comments were "wholly inappropriate".
Mr McEvoy used Facebook earlier this week to accuse Welsh Women's Aid (WWA) of "publicly funded child abuse" and claimed they supported women in breaking court orders on fathers access to children.
The comments were the latest in a long running dispute between the Plaid Cymru councillor, who represents the Fairwater ward, and WWA.
WWA chief executive Paula Hardy flatly denied the allegations.
"I urge Councillor McEvoy to produce any evidence that he has to support his claims to enable a thorough investigation to be undertaken through the proper channels," said Ms Hardy.
"We are seeking legal advice on his comments," she added.
The charity Safer Wales demanded Mr McEvoy's immediate resignation over the comment.
'Hate campaign'
Safer Wales chief executive Barbara Natasegara, said: "I call on Cardiff Council to repudiate this shameful behaviour by the deputy leader.
"That precious taxpayer's money should be paying for a senior [council] cabinet member to spread a hate campaign against charities is unacceptable," she added.
"I call for Councillor McEvoy's immediate resignation."
In a statement, Mr McEvoy claimed that "constituent members of Welsh Women's Aid and other groups support women who are breaking court orders."
"It would be more appropriate for AMs of all parties to condemn those who engage in behaviour that causes emotional distress to children," he continued.
"They can smear me as much as they like, I am standing up for voiceless children and the will of the courts," said Mr McEvoy.
"This is much bigger than party politics; it is an issue of what is right and wrong".
Mr McEvoy added that he wanted the children's commissioner to look into the issue.
Paula Hardy from WWA said they had previously informed Mr McEvoy of the charity's position on child contact.
"WWA and our members work in line with the principles set out in the UN Convention of the Rights of the Child," said Ms Hardy.
She said that WWA and its members "recognise and advocate the importance of the fathers involvement in their children's lives following separation, where involvement or contact does not present a risk to the child's welfare and the child's views and best interests are taken into consideration".