Wales 'ready for harsh winter' with more salt than ever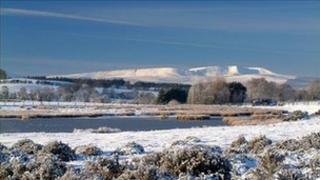 Wales will start the winter with bigger supplies of road salt than ever, the local government minister has said.
Carl Sargeant said the Welsh government was preparing for the worst after two successive winters brought the country to a halt.
Plans are in place to make sure the NHS can continue to function if services become overloaded.
And an information campaign will advise the over-60s on how to stay warm when temperatures plunge.
Mr Sargeant said planning for this year was "based on a reasonable worst case scenario" to make sure public services are prepared for a repeat of last winter's big freeze when snow caused widespread disruption.
Councils have a target for salt stocks that is one-and-a-half times the average amount used over the last six winters.
Reserves will be available in north, mid and south Wales, and for the M4. The government has contacted suppliers in case more is needed urgently.
Officials are looking at how to make more information available on driving conditions, including through Twitter and by using smart phones.
Action plan
An action plan has been developed by the NHS to help make sure essential health needs are met during the traditionally busy winter period when demand for services increases.
The Keep Well This Winter campaign will provide advice for the over-60s and the target for flu vaccines has been increased from 70% to 75% of older people and those thought to be at risk.
Mr Sargeant said: "Despite the best efforts of those involved in winter service, during adverse weather travelling conditions in some areas can still be difficult, ice-free roads cannot be guaranteed and care needs to be taken."
Last year's severe cold snap saw record low temperatures for Wales in November when the mercury plummeted to -18C in Llysdinam near Newbridge on Wye, Powys.
BBC Wales forecaster Derek Brockway said there was no sign of a repeat of last year's exceptionally cold weather at the moment.
He said the weather was likely to get colder in December, but it was impossible to predict what would happen in January and February.
"It might come as a bit of a shock to people because it has been such a mild autumn," he said.