Councils offered help to borrow £170m for road works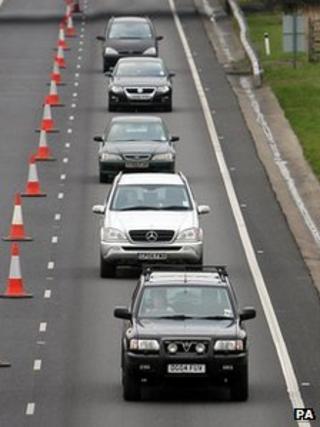 The finance minister has announced plans to help councils borrow up to £170m to fund road improvements.
Jane Hutt added that the Welsh government will publish an infrastructure investment plan.
She pledged the government would do all it could to use public spending to combat the economic downturn.
Ministers have been accused by Plaid Cymru of failing to do enough to revitalise the economy.
Ms Hutt said the plan, due to be published in the Spring, would identify and publish the details of large, nationally significant infrastructure projects - such as important transport schemes and next generation broadband.
It will identify the government's top priority schemes which have the potential to start work during the next one to three years.
The government has also said that health and education projects will be the main beneficiaries of its £90m centrally retained capital fund over the next two years. There will also be an extra £10m to support the next generation broadband scheme.
'Stability'
Ms Hutt said: "I want to provide stability and certainty for the private sector, not just now but for the years to come.
"The funding I have announced today will help to do this by supporting up to 1,000 jobs a year in construction and related activities over the next two years.
"We also need to do more to help local authorities maintain prudent levels of borrowing and investment. We have been working closely with local government to develop an initiative to boost borrowing over the next few years."
But Plaid attacked the announcement on the centrally retained fund.
The party's economy spokesman, Alun Ffred Jones, said: "Releasing endless lists of projects which haven't started is not going to help the construction industry in Wales - or help people whose jobs are currently under threat.
"What is needed from this government is action."