Conservatives tell Carwyn Jones: 'take responsibility'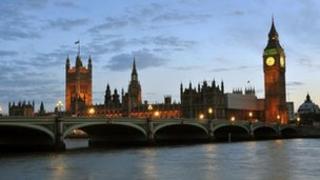 First Minister Carwyn Jones has accused the UK government of attacking people on benefits.
It came after the Conservatives said he had failed to take responsibility for Wales at question time in the Senedd.
Repeated references to the UK government showed he was "fixated" on Westminster, the Tories said.
But the first minister said the Westminster coalition was presiding over soaring unemployment and was attacking benefit recipients.
Tory opposition leader Andrew RT Davies clashed with the first minister over waiting times in the NHS.
After hearing Mr Jones say waiting times in England were "rocketing", the opposition leader said: "It would be nice for you to actually take responsibility for what is actually in your portfolio and your area of responsibility."
The Tories claim Mr Jones has made 79 references to the UK government in his weekly question sessions in the chamber since September.
'Fat cats'
Conservative AM Janet Finch-Saunders called on the first minister to back UK government reforms of the welfare system.
But Mr Jones told her: "All the party opposite do is attack people on benefits, they attack people on low pay, while they leave the fat cats, the executives, untouched. Why? Because they fund them.
"We're the party of people who are struggling, we are the party of people on low pay. They look after the rich."
Plaid Cymru leader Ieuan Wyn Jones - who said the economy "is in something of a crisis" - asked whether the Welsh government had made representations to Chancellor George Osborne ahead of his autumn statement on 29 November.
The Plaid leader said a letter from the first minister to David Cameron about reforming assembly elections suggested "the only jobs you are worried about are the Labour backbenchers".
The first minister said there was regular correspondence with the UK government, and that he was surprised Plaid had "contempt for the views of the people of Wales" on how AMs are elected.
Welsh Liberal Democrat leader Kirsty Williams challenged the first minister on unfilled vacancies for hospital consultants and doctors. Meanwhile, the NHS was "shelling out" for temporary workers and locum doctors, she said.
Mr Jones said it had always been difficult to attract doctors to work in west Wales, but the UK government could make it easier to recruit foreign doctors by changing rules on immigration.