Clegg and Miliband bring battle over economy to Wales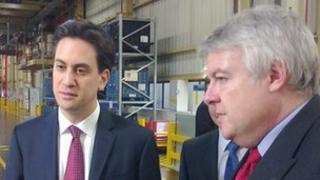 The UK coalition government and the Labour opposition have brought their battle over the economy to Wales.
Visiting Cardiff, Deputy Prime Minister Nick Clegg said the UK government was helping people into work, but the Welsh government had to play its part.
Labour leader Ed Miliband, at Ford in Bridgend, said the Welsh government's hands were "tied" by Westminster.
It comes as unemployment continues to rise in Wales and after the Bank of England downgraded its growth forecast.
Both the UK government in Westminster and the Labour Welsh government in Cardiff have faced attacks from critics for not doing enough to reinvigorate an ailing economy.
Official figures on Wednesday showed unemployment in Wales had reached its highest level since comparable records began in 1992.
On the same day, the Governor of the Bank of England Sir Mervyn King said the outlook for the UK had worsened and the economy could stagnate until the middle of next year.
Liberal Democrat leader Mr Clegg visited a recycling project in Cardiff that helps train long-term unemployed people on Friday.
He defended the actions of his coalition with the Conservatives, saying: "We're increasing the number of apprenticeships, we're increasing the incentives for employers to take on people in work, but we do need to do more - we know that and we will do more."
He added: "The Welsh government should play its part and do more to help young people into work - that's an absolute priority for everyone."
Labour has said there is evidence the UK government's austerity policies are not working and that it should change course when the Chancellor delivers his autumn statement on 29 November.
Mr Miliband supported the actions of the Welsh government, pointing to funding to create 4,000 training opportunities for young people.
First Minister Carwyn Jones led a government that was "doing everything it can to get our economy moving".
'Wrong decisions'
"But he's being held back," said Mr Miliband.
"His hands are tied by a government in Westminster that's making all kinds of decisions about our economy which I think are the wrong decisions."
Labour agrees that the deficit needs to be reduced but the government can't get the deficit down until Britain gets back to work, said Mr Miliband.
Action on the economy has been a sticking point in Labour's talks with opposition parties as it tries to get its budget through the assembly.
Mr Miliband said it was up to Mr Jones and his cabinet to decide whether they strike a deal with Plaid Cymru or the Lib Dem.
"I have absolute confidence that Carwyn will make the right decision by the people of Wales."
Mr Jones, who was also meeting workers at Ford's engine plant, said the Welsh government was doing what it could to stimulate growth.
He hailed an announcement about funding worth £55m to help small businesses and said there would be another announcement about capital spending next week.
"It's very important that the UK government do the same thing [as us] and they are not at the moment," he said.
Welsh Tory business spokesman Nick Ramsay said: "Labour are trying to shift the blame to cover for their mismanagement of the Welsh economy over 12 years in power in Wales".
Plaid said Mr Miliband was using his visit to "point the finger at others" and that Labour had "chosen to sit back and do nothing" since May's assembly election.