Tories attack 'wasteful' spending on government offices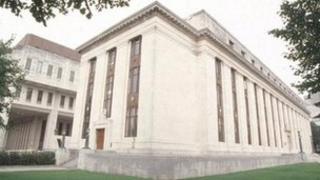 The Welsh government has been accused of "excessive" spending on refurbishing and repairing its headquarters.
Figures obtained by the Conservatives show upkeep costs at the government's Cathays Park office in the centre of Cardiff were around £4m a year.
Ministers hit back saying Cathays Park was the largest single occupied building in Wales, with 2,300 staff.
Money spent on the offices had benefited the construction industry, the government said.
It added that it had cut carbon emissions by 11%, partly as as a result of improvements to its estate.
Conservative assembly leader Andrew RT Davies said figures he received from the government show spending on Cathays Park is likely to reach £16m over four years.
During the three years to 2010-11, spending on maintenance, repairs, refurbishment and upgrading came to more than £4m a year, with another £3.7m predicted for this financial year.
'Splashing out'
Mr Davies said: "There are untold numbers of businesses in Wales that would benefit from financial support - yet Labour is busy splashing out bags of taxpayers' cash on its civil servants' offices.
"While upkeep of the building should certainly be expected, I fear these costs are excessive and wasteful during the current climate."
The Welsh government's main Cathays Park headquarters, which belonged to the Welsh Office before devolution, is more than 30 years old and houses 2,300 staff.
The government said much of the expenditure is on essential health and safety work, as well as making the building more sustainable and reducing its carbon footprint.
The government said that by vacating 18 buildings, cutting journeys to meetings, using video conferences and reducing computer servers, it exceeded a target to cut carbon emissions by 10% last year.
A spokesman said: "All projects will have gone through strict procurement procedures to ensure value-for-money. Investment in our estate will benefit the construction sector and other local businesses.
"We continue to achieve significant savings by reducing both the size and cost of the estate - having vacated 18 buildings in the last year.
"Over the next five years, our plans to increase the efficiency and effectiveness of our estate will generate cumulative savings of over £18m - bringing annual running cost savings in excess of £5.3m from 2015."
In 2009, the government proposed a full scale refurbishment of the building, but it was shelved after opposition parties criticised the estimated cost of £42m.