Journalists' union warns Western Mail 'could go weekly'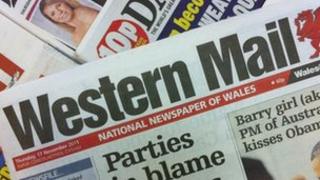 A journalists' union has claimed the Western Mail could become a weekly newspaper.
The National Union of Journalists (NUJ) speculated that Wales' national paper could cease daily publication "in a relatively short space of time".
The paper's publisher Trinity Mirror said it had "absolutely no plans" to take the paper weekly.
The union's warning came in a submission to AMs who are holding an inquiry into the future of the media.
The NUJ's south-east Wales branch says it believes the industry has reached a "critical and potentially dangerous phase".
It said profits at newspapers have "plummeted" and "deep cuts" have been imposed.
Within Cardiff-based Media Wales - which publishes the Western Mail, South Wales Echo and Wales on Sunday - "the widespread view of our members is that the newspapers have a limited remaining lifespan", the union says.
"There is speculation that within a relatively short space of time the Western Mail will cease to be published as a daily and will become a weekly paper.
"If that happens, many more jobs will be lost, and Wales will lose its only daily paper that seeks to take a national view of the country."
Media group Trinity Mirror, the Western Mail's parent company, said: "We have absolutely no plans to take the Western Mail weekly."
The NUJ estimates that between 2003 and 2011 around 100 editorial jobs were lost at Media Wales. By the NUJ's reckoning, the company employs about 138 journalists.
Local managers have been obliged to impose cuts that are having a "negative impact" on the company's stable of Welsh newspapers.
A round of job losses announced in July will see 22 full-time journalism jobs go as part of restructuring plans.
According to latest reported Audit Bureau of Circulation (ABC) figures, the Western Mail had an average circulation of 26,931 for the first half of 2011, a year-on-year drop of 8.9%
The union also complains of cuts at the Newport-based South Wales Argus, owned by publishers Newsquest.
It says changes at the company mean the Argus and its sister weekly titles the Free Press are in danger of losing their roots in the communities they serve, with staff under pressure to do more for less.
'Serious threat'
The NUJ's Welsh executive council said further losses of jobs, offices and titles were "inevitable", posing a "serious threat to Welsh democracy".
News websites are failing to make up for retreating newspaper coverage, creating "not spots" where newspapers have disappeared and no alternative has filled the vacuum.
It calls on the Welsh assembly and Welsh government to treat papers as "community and national assets", and says politicians should ask media groups to inform them, workers and the public when there are proposals for closure.
It also complains of threats to broadcasting, saying changes to the way S4C is funded will "result in the total destabilisation of an already weakened Welsh media".