Carwyn Jones pledge on jobs for young in Wales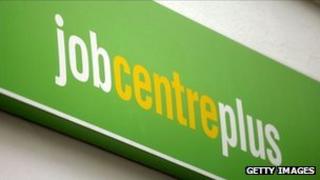 First Minister Carwyn Jones has insisted Labour will help young people in Wales into work.
He brushed off a claim from the Conservatives' assembly leader that the Welsh government was alienating the business community.
Andrew RT Davies tackled Mr Jones about his business minister's comment that she "regretted" the capitalist system.
The leaders of Plaid Cymru and Liberal Democrats challenged him on public spending.
There are predictions that figures out on Wednesday may show a continuing rise in youth unemployment.
At question time in the Senedd on Tuesday, Mr Jones said complaints from the private sector about the Welsh government were "old concerns".
No such complaints were raised when he met business leaders at last week's Council for Economic Renewal, he said.
Mr Jones told the Welsh assembly Tory leader: "This Welsh government will help young people, will help people find work, unlike the party opposite."
'Risk averse'
A Welsh government fund would create training and apprenticeships for 4,000 young people, he said.
Mr Davies highlighted Business Minister Edwina Hart's contribution to a recent debate when she suggested AMs take a history lesson from communist philosophers Karl Marx and Friedrich Engels.
He said there was a perception that the Welsh government was "risk averse".
Former Labour MEP Baroness Morgan of Ely last month said some in her party had been "suspicious" of the private sector.
Plaid leader Ieuan Wyn Jones said there was a danger young people could suffer the same fate as a "lost generation" who found themselves out of work in the 1980s and 90s.
Carwyn Jones said an announcement was forthcoming on capital funding and the government would continue discussions with the opposition about how to spend £39m it received as a result of a council tax freeze in England.
Welsh Lib Dem leader Kirsty Williams called for more spending on education, particularly for the least well-off pupils.
The Lib Dems are pushing the issue in a talks with ministers about the Welsh government's budget.
Mr Jones said a similar move to help children in England - known as the UK government's pupil premium - had simply moved money around.