Pledge to help students with fees 'will cost £3.6bn'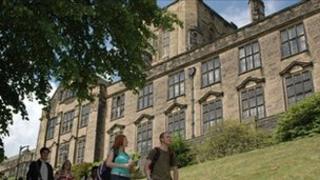 The Welsh government has revealed it expects to spend an estimated £3.6bn putting students through university.
Opposition parties pounced on the figure, warning it could be the tip of the iceberg.
Welsh students will avoid a big hike in fees, due to come in next year.
The Welsh government insists the subsidy is fully funded, but says its estimate of the costs involved is based on a "wide range of uncertainties" and could change.
Education Minister Leighton Andrews outlined the financial support Labour is offering students during the lifetime of the assembly.
It includes more than £1bn for tuition fee grants that will cover an increase in fees from £3,400 to an upper limit of £9,000 next September.
Students from Wales will not have to pay the increased fees, regardless of where in the UK they study.
The money will also be available to EU students studying in Wales - but not those from England, Scotland and Northern Ireland.
The £3.6bn also includes the cost of a means-tested maintenance grant of up to £5,000 and £1.85bn for loans that students repay when they start to earn more than £21,000 a year.
'No worse off'
Publicising the figures on National Student Finance Day, Mr Andrews said: "My message to students thinking about going on to higher education is if you normally live in Wales and you are going to university next academic year you will be no worse off than if you had gone to university this year.
"I believe it's imperative that we stick up for our students and help them wherever we can and that's why we've put in place the most equitable student finance system we've ever created."
The Welsh government acknowledged there was a "wide range of uncertainties" behind the predicted cost.
The figures provided were "merely an indication of the likely financial consequences" and could be affected by changes in student numbers, loan take-up and fee levels.
Eight universities in Wales have been given permission to charge the maximum fee of £9,000 a year.
The Conservatives' shadow education minister Angela Burns warned the Welsh government's estimates could be "the tip of the iceberg".
"This was pre-election policymaking at its worst," she said.
"Ministers put Wales' finances at risk by announcing a key policy for funding our universities without establishing the burden such a policy would have on Welsh taxpayers."
Plaid Cymru said it supports the principles of the Welsh government's policy, but raised questions about whether it was affordable.
The party's education spokesman Simon Thomas said universities' decision to charge £9,000 was an "unexpected blow" for the government.
"We want to see the minister and higher education institutions pull together to create a strong, sustainable university funding structure in Wales," he said.
Liberal Democrat education spokesman Aled Roberts said: "I have to question whether spending like this is sustainable. A lot of assumptions have been made about take-up figures."