Rumbling disquiet on Labour backbenches over the NHS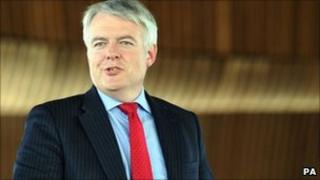 First Minister Carwyn Jones is facing dissent on his backbenches about the NHS and other issues, BBC Wales has learned.
It is understood a number of Labour AMs used individual meetings with Carwyn Jones on Wednesday to express disquiet over health services.
A spokesman for Mr Jones said the meetings were routine.
He met backbenchers frequently and there was no particularly focus to the one-to-ones, the aide said.
Last week, Health Minister Lesley Griffiths laid out plans which would see some specialist services centralised away from district general hospitals.
It appears some Labour AMs may be preparing to oppose centralisation plans in their areas, initially in private, but potentially publicly too, when full plans are announced.
It is believed that some are unhappy about other aspects of the Labour government's policies. One AM told BBC Wales he felt some ministers were becoming too close to civil servants, and that a "them and us" culture is developing between ministers and backbenchers.
'Them and us'
Some feel ministers are becoming too close to civil servants and that a "them and us" culture is developing between ministers and backbenchers.
A bloc of dissenting AMs on the Labour backbenches would make life difficult for Mr Jones, who holds 30 out of 60 seats in the assembly following last May's election.
It means the opposition could conceivably defeat the government if any Labour AMs were to abstain or vote against the government.
During the second assembly Labour AM Peter Law defected and sat as an independent, depriving then First Minister Rhodri Morgan of a majority.
Mr Jones's spokesman said the Welsh Labour leader met backbenchers "all the time".