Your money: Fear green spending goes 'under the radar'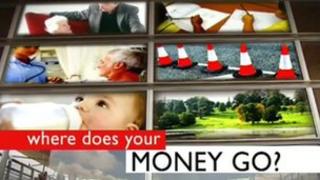 There has been a call for greater accountability over millions of pounds given to environmental groups in Wales.
A Welsh assembly environment committee member wants more scrutiny, with groups receiving nearly £20m in three years.
Plaid Cymru AM Llyr Huws Gruffydd said: "When these sums are added up, they are incredible amounts."
The Welsh government said all grant applications were tied to business plans and these were consistently monitored against targets.
'Accountability'
Mr Gruffydd said: "The basic issue is that since the payments are in such a piecemeal fashion, there are questions, I would argue, about accountability and scrutiny.
"Who has an overview of the whole spending, and who is making sure that all of it together is contributing as well as it can towards the government's agenda?"
Mr Gruffydd said although many environmental groups did important work, he was concerned there was a danger that some spending could go "under the radar" and not scrutinised as closely as other areas of public expenditure.
BBC Wales research found that during the last three financial years, the members of umbrella group the Wales Environment Link received almost £20m.
Among the largest recipients were:
Keep Wales Tidy: £8m
National Trust: £6m
Green transport group Sustrans Cymru: £5m.
Rory Francis, a trustee of Wales Environment Link, said government grants to non-governmental groups were an extremely effective way of delivering improvements because they could harness the work of volunteers in the way that governments could not.
'Value for money'
"Compared to the statutory sector we are very small - we are a lean machine - and an awful lot of what we do is actually working with volunteers," he said.
"The voluntary sector is the sector which, to a very great extent, actually cares for the environment, and it represents extremely good value for money for the taxpayer.
"Fundamentally, the government can add a lot of value by putting in small amounts of funding, but decisions about funding are taken, quite rightly, by ministers and they are accountable for them."
A spokesman for the Welsh government said it had a clear process for awarding grant funding to environmental non-governmental organisations (NGOs) and other organisations which are required to submit an outcome focused business plan which is assessed by officials.
He said: "Targets and a programme of work are agreed at the start of each financial year and these are reviewed on a quarterly basis and amended as and when necessary.
"The Welsh government also holds quarterly meetings with the organisations that it funds to assess progress and performance against the business plan, as well as carrying out periodic reviews of grant funded organisations every three to four years to inform decisions on future funding.
"There is regular assessment, for example the Tidy Towns initiative was independently evaluated in 2010 and the report is available on the Welsh government website."
He added there was a grants centre of excellence within the Welsh government which provided clear guidance on grant payment including the processes that should be in place to ensure effective and value for money delivery.