Welsh government urged to justify spending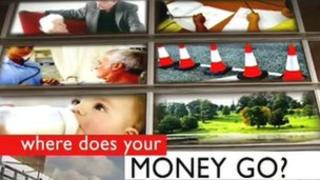 The Welsh government has spent nearly £42m on IT, marketing and management consultancy in the first five months of this financial year.
BBC Wales has analysed more than 11,000 items of spending above £25,000 which are now published monthly by ministers.
Opposition parties have called on the government to justify its spending.
The Welsh government said it had cut spending on external consultants by 50% and the figures were published under its commitment to openness.
The Liberal Democrats had mounted a campaign to urge the government to make the detailed spending records public and for greater transparency before next year's Budget is finalised in December.
Lib Dem finance spokesman Peter Black contrasted spending on IT, marketing and management consultancy with the grants given to the voluntary sector in Wales during the same period, which amounted to £34.5m.
He said: "It does raise questions about their priorities. The amount they are spending on IT and consultants is around £10m more than their spending on the voluntary sector, and you have to ask: is the voluntary sector more important or less important than this expenditure on consultants?
"The government needs to justify that and tell us exactly what this money is going on and why they need to spend it there, rather than giving it to the voluntary sector which is delivering a very good service, and often delivering front line services on behalf of the Welsh government and local government."
But Peter Cox, who has run a management consultancy for more than 20 years, cautioned against a knee jerk reaction to the spending on IT and consultancy.
He said: "A lot of the jobs that I have done have been aimed at saving organisations money.
Significant savings
"Mostly you are after small incremental changes which are going to change the nature of an organisation rather than get a big bang, big bucks answer.
"So if you're looking for quick fixes, well, life isn't like that really."
The total spending on IT, marketing and consultancy was £41,904,076 between April and August, according to the records that have been published so far.
Among the largest beneficiaries of government spending in this area were IT giants Logicalis UK, who were paid £17,031,383 over the five months, and CapGemini, who received £6,073,258.
Total spending on management consultancy was £3,824,856.
A spokesman said the Welsh government had cut spending on external consultants by 50% since 2010 and generated significant savings.
He added: "How we use taxpayers' money must be open and easily accessible to the public.
Crucial funding
"As part of our commitment to openness and transparency, the First Minister [Carwyn Jones] made a commitment in June to publish details of all Welsh government payments over £25,000."
The Welsh government said of the £39m spending on IT, around 40%, including the payments to Logicalis, were part of a project to introduce a common secure data network across the public sector in Wales, including GP surgeries, schools, local authorities, police, fire and rescue services.
Another 46% related to internal Welsh government contracts such as finance, HR, and record management systems, including grant payments.
Responding to the figures on grants to the voluntary sector, Graham Benfield, chief executive of the Wales Council for Voluntary Action, said that the money coming from government was crucial.
"It's absolutely critical, as quite a large proportion of the sector's income now does come from governments of one kind or another - but as a percentage of their overall expenditure it's actually tiny - two point eight per cent of the Welsh government's budget.
"Therefore it is incredibly important that that two point eight per cent is not cut, and indeed you could argue that it ought to be going up as any slight change in government expenditure, either up or down, has a huge effect on us."
The five months of published spending records cover a total of 11,286 separate items, amounting to more than £5.8bn of total expenditure.
In a series of reports this week, BBC Wales will also be examining Welsh government expenditure on economic development, the environment, and transport.