Building pass proposal for former AMs angers lobbyists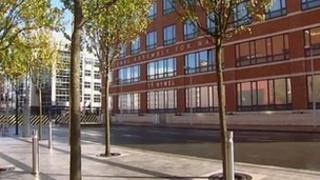 A proposal to give former Welsh assembly members passes to the building where they used to work has been attacked by the lobbying industry.
A source at the assembly confirmed Presiding Officer Rosemary Butler considered the idea, but said it was unlikely to happen.
The passes would have allowed holders into Ty Hywel - the building in Cardiff Bay that contains AMs' offices.
An association representing lobbyists said it was "bad for democracy".
A source at the Assembly Commission - the all-party body that handles day-to-day business in Cardiff Bay - said the proposal was not being progressed after "early soundings" were taken about it.
'Privilege'
Giving passes to defeated or retired AMs would mean they avoid security checks on the way into the building that houses members' offices, meeting areas and tea room.
Dewi Knight, chair of Public Affairs Cymru, said: "We think it's pretty bad for democracy if you let a privileged few have access to our politicians.
"In our members' code of conduct it says that if you are a lobbyist you should not hold passes to the assembly.
"If this went through they would be able to come and go as they please."