Labour AMs consider split with Hain on voting change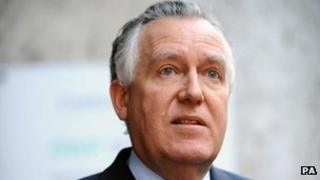 Labour Assembly Members are poised to reject a suggestion from shadow Welsh secretary Peter Hain to change the way AMs are elected.
A draft document opposes Mr Hain's idea of scrapping the assembly's "two-tier" elections if the boundaries of Westminster seats are withdrawn.
Part of an internal Labour Party consultation, it says the assembly's voting system should not change.
Mr Hain was said to be "relaxed" about the difference of opinion.
At present, Wales' 40 assembly and parliamentary constituencies share the same boundaries, with 40 AMs representing constituencies and 20 elected from regional lists.
Mr Hain has proposed scrapping the part-proportional voting system and creating 30 two-member constituencies as a result of changes to the boundaries of Westminster seats.
It would preserve the number of AMs, but change the system so all 60 are elected via the first-past-the-post system.
The UK government wants to cut the number of Welsh MPs from 40 to 30 as part of a plan to create parliamentary constituencies of roughly the same size.
A paper was circulated among Labour AMs this week and offered as a basis for their response to an internal party consultation on boundary changes which closes on 11 November.
A leaked copy of the draft says there are no proposals to change an electoral system that has existed since the outset of devolution and that there is "consequently nothing to debate".
'No debate'
Earlier this year, Mr Hain said having constituencies covering separate areas for the assembly and Westminster - as exists in Scotland - could be confusing.
His comments followed a resounding No to adopting the alternative vote for Westminster general elections at a referendum in May. Mr Hain campaigned for a Yes vote in the referendum.
A source close to Mr Hain said he was "relaxed" about the difference of opinion and that Welsh Labour was in the process of agreeing a position in case the UK government brings forward plans to redraw assembly boundaries.
A party spokesman said: "Welsh Labour is completely united in a firm belief that the Tories have absolutely no mandate for changing the voting system whatsoever.
"But, as we've seen with boundary changes in England, that doesn't mean that they won't try to do so regardless.
"Labour's Welsh executive committee are currently consulting on the issue, with the single guiding principle of us having a voting system that best serves the people of Wales."