Carwyn Jones: Capital spending promise despite squeeze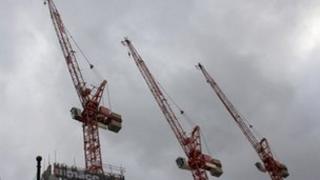 First Minister Carwyn Jones has promised "substantial" spending on capital projects, despite cuts to the Welsh government's budget.
Labour denied claims by Plaid Cymru leader Ieuan Wyn Jones about a lack of announcements to boost the economy since May's assembly election.
The first minister was also tackled about the future of capital investment in the health service.
There were no plans to halt projects, but some will be "reexamined", he said.
At question time in the Senedd on Tuesday, Plaid leader Mr Jones said capital projects were needed to stimulate the economy and challenged the first minister to name any announced since Labour was re-elected.
After questions, an aide to the first minister said projects worth nearly £100m had been announced across government departments since May, including the confirmation of £77m to fund improvements at Glan Clwyd hospital in Bodelwyddan.
The first minister told AMs there were "substantial capital projects that are continuing, particularly in the field of health", despite a budget squeeze of 40% over the next three years.
Discussions are underway with opposition parties on how Labour's minority administration should spend a recent windfall from the Treasury of £39m, he added.
Last month, Health Minister Lesley Griffiths said new bids for NHS capital spending will not be accepted until local health boards submit plans for reforming services. Approved and contractually-committed work will continue as planned.
'Not our intention'
Welsh Liberal Democrat leader Kirsty Williams asked the first minister whether projects announced before the assembly election at Bronglais hospital in Aberystwyth, Morriston hospital in Swansea and the Royal Gwent hospital in Newport would be affected.
She said: "In all of those communities the Labour Party promised that there would be delivery on those projects. Will you commit, here and now, that each one of them will go ahead?"
Mr Jones said none of the projects are "scheduled to be stopped in any way".
"There are some projects that will need to be reexamined, but most of the projects that have been announced already will be taken forward," he said.
"It is not our intention to stop any projects in the health service."
A government spokesman said nearly £700m of capital spending was planned over the next three years and a Infrastructure Investment Plan was being developed.
Conservative assembly leader Andrew RT Davies said the business community had criticised the lack of assistance to help companies win contracts from the public sector.
Mr Jones said the Welsh government would help small businesses bid for large contracts. For example, Welsh beef was provided to most of the NHS a result of government help with procurement.