Welsh Labour reveals its 'vision' for future of NHS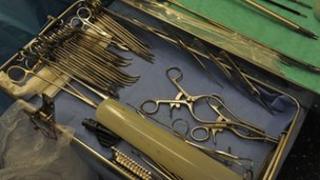 The health minister is preparing to explain Labour's plans for meeting the challenges facing the NHS in Wales.
Opposition parties have demanded that Lesley Griffiths does not downgrade district general hospitals.
The Welsh government said it had no plans for downgrading, but a "very small number of specialist services" need to be delivered differently.
Mrs Griffiths will outline the Welsh government's five-year "vision" for the NHS in a statement to AMs on Tuesday.
'Difficult changes'
In May, the Welsh government's Bevan Commission said the NHS was facing increased demands from an ageing population and advances in medicine.
Challenges were mounting at a time when public spending was in decline, it said.
The public had to be involved in the "complicated world of planning and prioritising services", it added.
Mrs Griffiths has warned that the NHS faces difficult changes and has promised to "take the flak" for unpopular decisions.
Local health boards are in the process of finalising proposals for reorganising services.
When ready, their plans will be reviewed by a newly-established National Clinical Forum - part of an attempt by the minister to stop NHS reorganisation becoming a political football.
Tory assembly leader Andrew RT Davies said the NHS should be allowed to use the private sector to bring down orthopaedic waiting times.
The Welsh government has said it would be "prudent" for health boards to "explore all possible avenues" to meet targets by March next year.
'Protection'
He said: "I also want to hear a cast-iron guarantee from the minister herself that no district general hospital will be downgraded by the Welsh Labour government.
"It is absolutely crucial that the network is protected and patients' needs are put first."
Plaid Cymru health spokeswoman Elin Jones said Wales' ageing population meant people would become more dependent on local services.
"If local hospitals are downgraded and services centralised then patients will have to travel long distances for basic care, which will impact on the most vulnerable and elderly patients hardest," she said.
Welsh Liberal Democrat leader Kirsty Williams said: "I hope the minister will finally set out the government's blueprint on addressing the enormous problems that need to be tackled in our NHS.
"The people of Wales should not have to settle for second best."
A Welsh government spokeswoman said: "As we have made repeatedly clear, district general hospitals will continue to be district general hospitals and are an important part of the NHS of the future.
"The ageing population is a driving factor to reform the entire health care system. We need improvements in community care and the treatment of long-term conditions locally to reduce the need for emergency hospital admission.
"We have no plans to downgrade district general hospitals - however, we know a very small number of specialist services need to be delivered differently to ensure best outcomes."