Growing GCSE performance gap between England and Wales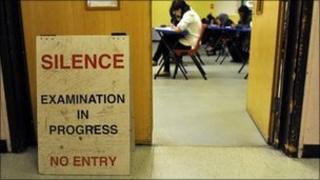 New figures suggest English teenagers have opened a bigger gap over their Welsh counterparts in their performance at GCSE exams.
The number of English students getting five good GCSEs, including English and maths, rose by nearly 5% to 58.3%.
The equivalent figure for Wales rose by 0.2% to 49.6%.
The Welsh government said the figures were not directly comparable, "although we do acknowledge the difference between Wales and England".
The UK government said the inclusion of an alternative maths exam at some English schools helped explain the big increase in performance this year.
Figures published earlier this month for Wales, which also include Welsh, showed a slight improvement from 49.4% to 49.6%.
The 0.2% improvement in the proportion reaching the equivalent of five or more GCSEs at A* to C, including core subjects - what the Welsh government calls its "headline indicator" - was smaller than previous years.
Performance has been improving on both sides of the border in recent years.
The UK government said a big improvement in England was due to the inclusion of statistics on the IGCSE maths qualification, taken in many independent schools.
By contrast, A-Level results fell slightly in England, with 92.7% getting at least two passes, compared with 94.8% the previous year.
The percentage of Welsh 17-year-olds getting the equivalent of two A-Levels rose from 94.9% to 96.2% this year.
'More to be done'
League tables are not available in Wales, but the Welsh government is placing schools into performance bands for the first time.
A Welsh government spokesman said: "The statistics released in England today are not directly comparable with those in Wales, although we do acknowledge the difference between Wales and England."
Education Minister Leighton Andrews had "set out a challenging agenda for improvement", he added.
He said the slow down in rates of improvement against the "headline indicator reaffirms the minister's view that there is much more to be done".
"We need to ensure that we see continuous improvement in the literacy and numeracy skills of our young people," he said.
"The final data will feed into our new banding system for secondary schools and help us see where our strengths and weaknesses lie."