Hospitals not 'be all and end all of NHS', say bosses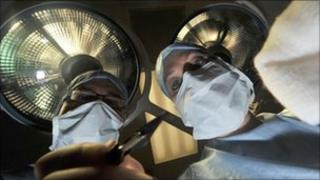 The head of the body representing health boards has said it is time to stop thinking about hospitals as the "be all and end all" of the NHS.
The director of the Welsh NHS Confederation said the service will "fail" if it continues to do the same things with less money.
Helen Birtwhistle told AMs the public should have confidence in changes.
Meanwhile, it emerged ministers will not accept new bids for NHS capital investment projects until the new year.
The Welsh government said it was pleased the confederation recognised the need for change.
In evidence to the assembly's Finance Committee, Ms Birtwhistle said there was a "pressing need for major changes" to the way services are delivered to patients.
Clinical evidence
She refused to give a guarantee that local health boards would be able to break even in coming years despite extra government cash.
The NHS is to meet a legal obligation to break-even by the end of next March. Health boards also need to find efficiency savings of at least 5% a year.
"We have to look at the clinical evidence, that shows us that for some sorts of specialist services, services do need to be concentrated in specialist centres," Ms Birtwhistle said.
She added: "If the NHS continues to do the same things in the same way but with less money then it will fail."
Responding to members' questions, she said services within district general hospitals would have to change, which could include, for example, centralisation of accident and emergency departments.
"Hospitals will always be important for some services, but... we have to start getting beyond that hospitals are the be all and end all," said Ms Birtwhistle.
Public confidence
"I'm a patient, I'm a member of the public, I don't like change either... that's normal, that's natural.
"What we have to do is help the public recognise, and to demonstrate through some of the good work and the good examples that are already happening, to give the public confidence, and you as politicians confidence that the NHS can do things, is doing things and will do things in a different way."
She appealed to AMs to support the health service when the reconfiguration proposals were made public in the coming months.
Her comments follow a report from the Wales Audit Office which said the NHS faces a tougher funding settlement in Wales than the rest of the UK.
Ministers have rejected calls to maintain health spending in line with inflation, but at more than £5bn a year, health and social services still account for the biggest item of expenditure in the Welsh government's budget.
The Welsh government said more than 43% of its budget was being spent on health and social services "despite a tough budget settlement from the UK government".
'Mind-boggling ignorance'
A spokesman said Health Minister Lesley Griffiths "has been clear that the NHS cannot continue to do the same things in the same way".
NHS organisations will shortly submit their plans for delivering "safe, modern, effective health care for their local communities", which will be reviewed by a panel of professionals appointed by the minister.
"District general hospitals will continue to be district general hospitals," the spokesman said.
"However, some services may change based on clear evidence and driven by health professionals locally, as we strive to continually improve services."
Giving evidence to a separate committee on Thursday, Ms Griffiths said new building projects had been put on hold until health boards submit their plans in the new year. Approved and contractually-committed work will continue as planned.
A spokesman said the "short pause" had been introduced because it would be "totally irresponsible" to sign off bids for capital investment before "we understand their relevance with their final plans for service delivery".
Plaid Cymru health spokeswoman Elin Jones said the "amazing admission by the health minister suggests mind-boggling ignorance of the economic crisis that we're in".
Welsh Liberal Democrat leader Kirsty Williams has tabled a formal question asking the minister to "come clean" on which projects will be affected.
For the Conservatives, shadow health minister Darren Millar attacked a "shocking confession" by the government that left a "very dark shadow over the future of those hospitals".