Language board chief Meri Huws is Welsh commissioner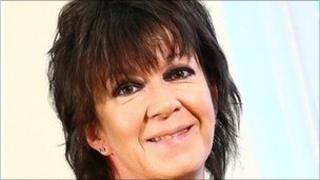 The chairwoman of the Welsh Language Board has been appointed the first Welsh language commissioner.
Meri Huws will act as a champion for the Welsh language, says First Minister Carwyn Jones.
Her new job was created as part of legislation to place duties on bodies to provide services in Welsh.
Plaid Cymru raised concerns about her transition to the new post from the Welsh Language Board, which is being wound up.
The commissioner will have enforcement powers intended to protect the rights of Welsh speakers to get services in Welsh.
She said she was "delighted" to have been appointed to the "hugely important role".
"I look forward to working with the Welsh government and organisations in Wales in developing the new system of standards," she said.
"I will look to build on the good work that has been done by the Welsh Language Board and others to strengthen the Welsh language and ensure that it continues to thrive."
The Welsh government said she was chosen from a strong field of candidates.
The post was established by legislation passed by the assembly last year which obliges public bodies and some private companies, such as utilities firms, to provide services in Welsh.
The legislation replaced the 1993 Welsh Language Act that created the board.
The commissioner will be able to launch investigations where there is an attempt to interfere with people's freedom to speak Welsh.
'Conflict of interest'
As well as regulating the system, Ms Huws will have a duty to promote and facilitate the use of Welsh.
Carmarthen-born Ms Huws is a former chair of pressure group Cymdeithas yr Iaith Gymraeg (The Welsh Language Society) and Labour Party member. Since 2009 she has been pro-vice chancellor at the University of Wales Trinity St David.
Plaid language spokeswoman Bethan Jenkins said: "I have concerns about the transition from Meri Huws's role from the Welsh Language Board to the language commissioner, and I will be asking the Welsh government how this will be successfully managed.
"We must be sure that there is no conflict of interest, and that the Welsh Language Commissioner can demonstrate how she will offer the required fresh approach to this new role."
The first minister said: "She brings a wealth of experience and enthusiasm to this new role and will be an excellent champion for the Welsh language."
Cymdeithas chair Bethan Williams said the duties placed on companies and services to use Welsh should be "clear and ambitious".
"She [the commissioner] also needs to tackle the discrimination against Welsh language speakers in the workplace, by securing rights for people to work in Welsh," she added.