Welsh government goes for growth on shrinking budget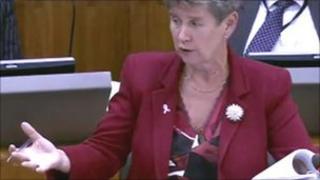 Priorities, priorities.
Finance Minister Jane Hutt has spent the last few months pondering how to slice up a shrinking cake, and on she has now unveiled the results.
Two contradictions lie at the heart of the Welsh Government draft budget she published.
Heavily trailed as a "budget for jobs and growth" it actually cuts spending for the Department for Business and Enterprise.
At the same time, Labour has pledged to protect the NHS in Wales - but has given it below-inflation increases over the coming years, despite some extra cash.
In reality, Ms Hutt had precious little room for manoeuvre, and she has chosen to play it safe, deciding against making substantial changes from existing spending plans.
Unexpected emergencies
In fact, it was later confirmed that all the additional cash for health and education had been found from reserves - the pot of cash the government holds on to for unexpected emergencies.
These could range from a severe flu pandemic to an outbreak of foot and mouth disease.
And while the minister was keen to trumpet the additional spending, she has left reserves at an eyebrow-raising low rate - just £127m or 0.95% of the total budget.
Pressed on the first contradiction - a budget for jobs and growth and a cut to the enterprise budget, Ms Hutt said her colleague, Business Minister Edwina Hart, would claim that it is not the size of her budget that was necessarily a driver for growth, but how smartly it is spent.
Alongside that, she argued, that deep cuts to public expenditure on health or education, for example, would scarcely bring growth to the Welsh economy either. So it is a priority to maintain spending on them.
So in a sense, she had her cake and ate it.
But none of the three opposition parties chose to back her plans in the chamber. There will now be six weeks of negotiations before a final vote on 6 December, where Ms Hutt must convince at least one of the three other parties to vote for her plans.
One notable feature was that she was in no hurry whatsoever to announce what she will do with the £40m extra given to them by the UK government as a result of the council tax freeze in England.
That will come in very handy when the opposition parties arrive at her door in the coming days with their votes in one hand - and a shopping list in the other.