Lansley attacks Welsh Labour 'scaremongering' over NHS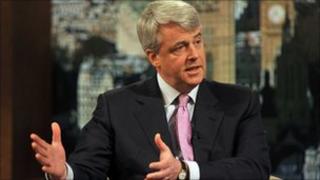 UK Health Secretary Andrew Lansley has launched a strong attack on Labour's handling of the NHS in Wales.
Mr Lansley claimed patients wait longer for treatment than they do in England and that spending on the NHS in Wales is being cut.
He told the Conservative conference that Welsh Labour was "scaremongering" and it could not be trusted on the NHS.
His Welsh counterpart, Lesley Griffiths, said the Welsh NHS was safe under Labour.
Mr Lansley's comments came after Welsh Labour criticised reforms of the NHS in England.
At Labour's conference last month, First Minster Carwyn Jones said the UK coalition government was making a "mess" of the health service, and that the NHS was "being dismantled by Tory dogma and their obsession with the market".
Mr Jones said English waiting lists were "running out of control" and patients were forced to pay a "tablet tax", unlike in Wales where prescriptions are free.
Mr Lansley will return fire when he tells his party's faithful in Manchester on Tuesday to ignore Labour's "absurd invention".
'Scaremongering'
He said: "Labour should stop scaremongering about the NHS in England and start adopting in Wales the changes we are bringing in.
"The people in Wales deserve better.
"You simply can't trust Labour on the NHS."
The Tories have called for health spending - the biggest item of expenditure in the Welsh government budget - to be protected from inflation.
Mr Lansley cited figures from the think tank the King's Fund that show health spending is being cut by 8.3% over three years.
Welsh ministers say they are maintaining the health budget, but meeting the Conservatives' call for more funding would force deeper cuts in other portfolios.
'Not dismantling the NHS'
Mr Lansley said that in England, the NHS treated more than nine out of 10 patients within 18 weeks, while the figure in Wales was "barely seven out of 10".
According to the Welsh government, 79% of people are treated in 18 weeks and a smaller proportion of patients wait more than a year.
Mr Lansley also pointed to figures on deaths from clostridium difficile (C. diff). Last year, the mortality rate for men in Wales was 55 per million and 60 per million for women, compared to 23 per million for men and women in England.'
In response, Welsh Health Minister Lesley Griffiths said that unlike the Tories in England, Labour in Wales was not dismantling the NHS.
"Unlike the Tories, our waiting lists are not running out of control. Unlike the Tories, Welsh patients are not subject to a 'tablet tax' on prescriptions. Unlike the Tories, we will not privatise the NHS - and we make no apologies for that whatsoever.
"The Tories are trying desperately to deflect attention from their own failings in the NHS in England. The fact remains, the NHS was made in Wales and is safe in Wales, under Labour."