Wales Tory Andrew RT Davies 'open to coalition offers'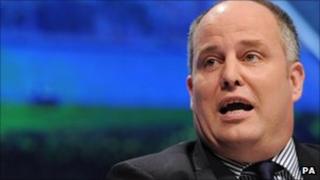 The leader of the opposition in the Welsh Assembly has said his "door is always open" to potential coalition partners.
Andrew RT Davies, who is at the Conservative party conference, accused Labour of "governing for the sake of it".
Mr Davies was elected leader of the Tories in the assembly in July.
He hailed the Welsh Conservatives as a "very strong brand" and told BBC Wales he wanted to lead a "consensual party".
Mr Davies said Welsh Tories were heading to the conference in Manchester in "good heart" after a positive result at May's assembly election.
They won 14 seats, pushing Plaid Cymru into third place for the first time.
With Labour occupying half the Senedd's 60 seats, there could be opportunities for opposition parties to team up against the Welsh Government.
'Makes sense'
Mr Davies, who addressed the conference on Sunday, ruled out any "backroom deals" with other parties.
"Ultimately what we want to be is a consensual party here in Wales that people can reach across and say 'Yes, I can see what the Conservatives are doing and it makes sense'," the leader said.
"Now if we can get into coalition or other parties want to come into coalition with us my door is always open.
"But what we have to make sure is that we have the confidence of the people and we have the genuine policy ideas that will improve services here in Wales and will improve people's lives here in Wales.
"There's no point governing for the sake for the sake of governance, and that's what Labour are doing at the moment."
Following a week when First Minister Carwyn Jones published his programme for government, Mr Davies said Labour was "void of ideas, void of inspiration" and "they are in power because they just believe they have a God-given right to rule in Wales".
'For the people'
"That is not good for Wales, it's not good for democracy, and above all we can see exactly what the problems are and we want to sort them out," he told BBC Wales
Some in the party have suggested the Welsh Tories should do more to stress their differences from the Conservatives in England.
But Mr Davies said: "Let me tell you clearly - Welsh Conservatives is a very strong brand that we are all very proud of fighting elections on.
"And we have our own party board, we have our own party chairman, and we have our own policy making.
"So when people vote at assembly elections they can be quite clear that they are voting on policy initiatives that are developed in Wales for the people of Wales.
In his speech on Sunday, Mr Davies attacked Labour's record on the economy, health and education in Wales.
He said despite millions of pounds being spent on economic programmes, Wales has become the poorest part of the UK.
'Tablet tax'
"Whilst Labour has spent millions of pounds on bureaucracy, Welsh pupils have been forced to suffer what the education minister admits is 'systemic failure' in our schools," Mr Davies told the conference.
He said there were also 24 cancer drugs available in England which were not available to patients in Wales and Labour was cutting the NHS budget.
Mr Davies added: "Welsh Labour promised to stand up for Wales. Instead they've given us a stand-up routine like Cannon and Ball."
A source close to the Welsh health minister Lesley Griffiths hit back, saying Welsh patients were not subject to a "tablet tax" on prescriptions, while unlike in England, waiting lists were not running out of control.
"We already spend approximately £5 more per head of population than England on cancer treatment," said the source. "Even with the additional £200m available in England, it is still less than what we spend per head in Wales."