Independent forum to review health service shake-up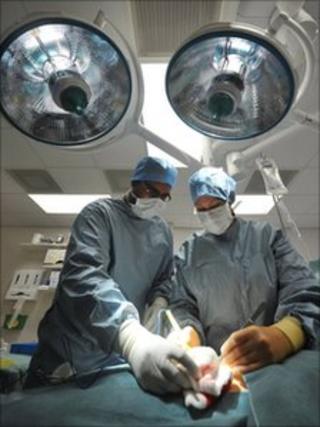 Proposals for changes to the health service will be assessed by an independent body, the Welsh Government has announced.
Plans by local health boards (LHBs) to "modernise" services will be reviewed by the new National Clinical Forum.
Health Minister Lesley Griffiths said changes to the NHS should not be treated as a "political football".
Plaid Cymru called it "an astonishing admission of no confidence in the LHBs".
Ms Griffiths said LHBs would submit plans in the next few weeks.
The medical director of NHS Wales, who will chair the group, said there was an "increasing consensus" that some services would have to change to make them safe and sustainable.
The forum will give independent advice to LHBs on potentially controversial plans for shake-ups in the health service.
It will include representatives of doctors' and nurses' groups.
'Modern'
Mrs Griffiths said: "In the next few weeks, LHBs will be submitting their plans on how they plan to deliver modern, effective healthcare for their local communities.
"Their proposals must be based on addressing long term clinical needs and improving health outcomes, not based on short-sighted vested interests and free from political point-scoring.
"This is too important an issue to become a political football. That is why I am establishing an independent group to assess the proposals from a clinical perspective."
The forum would make sure the plans are in patients' interest and based on sound clinical advice, she said, adding that it will "consider important interdependencies that require a regional approach to ensure the best solutions for Wales".
'Loud and clear'
NHS Wales medical director Dr Chris Jones said: "There is now an increasing consensus that in order to deliver safe, sustainable and high quality patient care, some services will have to change.
"But we need to ensure that the proposals meet clinical best practice and deliver services of the highest quality, and also that comprehensive engagement with patients and staff is undertaken before any decisions are made."
The group is expected to meet for the first time next month.
It will include representatives from organisations including Public Health Wales, Wales Ambulance Services Trust and specialisms including nursing, midwifery, general practice and surgery.
Plaid Cymru health spokesperson Elin Jones said: "This announcement is an astonishing admission of no confidence in the LHBs by the health minister, despite the fact that they are appointed by her.
"It is noticeable from the minister's announcement that the new forum will be a national body.
"However, what is important is that local needs are heard loud and clear when considering any changes to NHS services - and that those needs are not ignored as Labour tries to push through its programme to centralise hospital services."