Welsh MPs fail in House of Commons S4C vote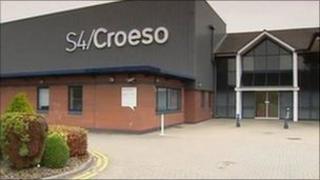 The UK government has defeated a bid by three Welsh MPs to limit ministers' powers to change the way S4C is run.
Plaid Cymru's Hywel Williams, Labour's Susan Elan Jones and Liberal Democrat Mark Williams serve on a committee looking at the Public Bodies Bill.
They tabled an amendment that would have removed the Welsh language broadcaster from the scope of the Bill.
S4C said it was "surprised and disappointed" by the UK government's comments in the House of Commons.
A member of the Welsh Language Society was removed from the public gallery when the vote's result was read out.
From 2013, the UK Government is handing over part of the responsibility for funding the Welsh-language channel to the BBC.
The Welsh Language Society is calling for people to refuse to pay the licence fee in protest at changes to the way S4C is funded.
The MP for Arfon, Hywel Williams, said after the vote: "Of course I'm very disappointed that the government failed to listen to the reasoned arguments.
"The minister offered some warm words but essentially repeated points already made.
"We will be considering tabling further amendments at report stage which will address S4C's status as a public body, its independence, financial security and future integrity."
Speaking after the Commons debate, Clwyd South MP Susan Elan Jones said: "Hundreds of people across Wales and beyond have written to MPs on this.
"There is no doubt about the strength of feeling."
S4C said in a statement: "S4C is surprised and disappointed that in the House of Commons today the government stated that guaranteeing S4C's operational independence would compromise the BBC's accountability for licence fee money.
"We do not believe this to be the case, and are currently engaged in discussions with the BBC to ensure that the new arrangements recognise the principles both of S4C's independence and the BBC's accountability for licence fee money.
"We are further concerned at the wording of the government's agreement with the BBC which states that funding for S4C after 2015 will be for the BBC to determine.
'Matter of concern'
"On the same day the committee considering the Public Bodies Bill in the House of Commons has passed an amendment which says that the secretary of state shall secure that S4C is provided with sufficient funds to cover the cost of delivering its television services."
The broadcaster said that this "contradiction" was a "matter of concern".
"Taken together, these developments appear to amount to a fundamental change in Parliament's responsibility for Welsh language broadcasting delivered by an independent Welsh authority," S4C added.
The Welsh Language Society said it would "continue with the campaign to secure a future for a Welsh language channel".