Plaid members back campaign to withhold TV licence fee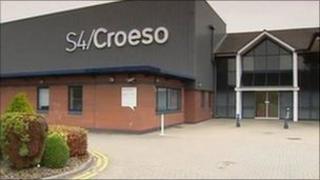 Plaid Cymru's annual conference has voted to support a campaign to not pay the TV licence fee in protest at changes to S4C.
Delegates overwhelmingly endorsed a motion calling for the protection of the channel's editorial and financial independence.
Plaid's Welsh assembly group tried to amend the motion to avoid backing the licence fee campaign.
But it was heavily defeated at the conference in Llandudno.
The pressure group Cymdeithas yr Iaith Gymraeg [The Welsh Language Society] is calling for people to refuse to pay the licence fee in protest at changes to the way S4C is funded.
The UK Government is handing over part of the responsibility for funding the Welsh-language channel to the BBC.
Plaid's conference motion called on the UK government to withdraw its proposals and for the devolution of all broadcasting powers to the assembly.
Speaking at the conference on Friday, former Welsh assembly Presiding Officer Lord Elis-Thomas told party members that withholding the licence fee "no longer belongs to policy development in a constitutional political party".
'National party'
But several speakers urged delegates to support people who choose not to pay the fee in a debate tabled by Plaid's London branch and European Parliamentary Group.
Former party president Dafydd Iwan recalled the 75th anniversary on Thursday of the burning of the RAF bombing school in Penyberth by Welsh nationalists, including Saunders Lewis.
He told the conference Plaid Cymru had to "deserve the title, national party".
There were some principles, he said, that were so important, it was right to make it clear that Plaid "will not accept everything that is thrown at us".
This was a case of "thus far and no further. We must support everyone who refuses to pay the licence".