Private hospital operations to cut NHS waiting times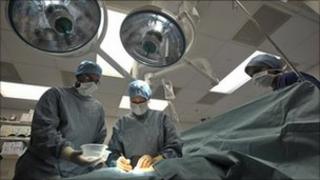 The NHS in Wales has been given the go ahead to use private hospitals to help cut waiting times for orthopaedic surgery.
The Welsh Government said local health boards should explore all possible ways of meeting targets.
The Conservatives said Labour had to clarify its policy and the Lib Dems that it was "muddled and inconsistent".
Prior to May's assembly election, the previous government ruled out the use of the private sector in the NHS.
A plan to treat orthopaedic patients in south Wales within the target time of 36 weeks lists the use of the independent sector among a series of options. It adds that Welsh patients could be sent to London or Newcastle for operations.
A pledge to end the use of private hospitals in the NHS by this year was a key plank of the health policy of the former Welsh Assembly Government coalition between Labour and Plaid Cymru.
In its manifesto for May's assembly election, Labour - now governing alone - said it had delivered on the promise to eliminate the use of private sector hospitals from the NHS.
Funding
Ministers announced £65m in March to reduce orthopaedic waiting times, £21.5m of which will be spent this year.
During June, 10,782 people in Wales received trauma and orthopaedic treatment. But by the end of the month 5,982 people had waited more than 36 weeks.
The plan from Cardiff and Vale University Health Board identifies problems in capacity for foot and ankle and major spine surgery. Discussions are underway about "the potential use of local independent sector", it says.
The latest proposals are reminiscent of the second offer scheme, which was introduced in April 2004 to cut waiting times by giving patients the option of faster treatment at an alternative hospital.
Shadow health minister Darren Millar said: "Welsh patients must be able to access first-class treatments as quickly as possible and discussions regarding use of the independent sector to make this possible are welcome.
'Make a difference'
"The health minister must now urgently clarify what represents a substantial shift in policy."
A Welsh Government spokesman said that since 2005, there has been a near 30% rise in GP referrals to orthopaedics and that the trend was likely to continue for the next five to 10 years.
"Our focus is on building capacity in the NHS to deliver services," he said.
"We are investing an extra £65m over the next three years to improve performance in orthopaedics and it has already started to make a difference.
"Health boards across Wales have been working together to identify additional NHS capacity in Wales and England to reduce waiting times for orthopaedic surgery.
"However, the health board has recognised that there may still be a shortfall in capacity, and it is prudent for them to explore all possible avenues to ensure our targets are met by March 2012."
Welsh Liberal Democrat leader and health spokeswoman Kirsty Williams said: "The Labour government's approach to the private sector is muddled and inconsistent.
"Ad hoc arrangements for using the private sector, like what is being proposed by Cardiff and Vale UHB, will end up costing the Welsh NHS more.
"I want to see orthopaedic waiting times go down but in a way that will provide best value for Welsh tax payers."