Obituary: Lord Roberts of Conwy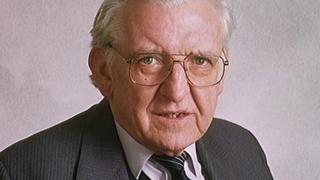 The son of a manse in north Wales, Lord Roberts had a front row seat for some of the most dramatic political developments of the 1980s and early 90s.
He served in office under four Conservative secretaries of state and two prime ministers.
During 18 years of government, he was the longest-serving minister in the same department.
His loyal service might have made him an obvious candidate as Welsh secretary, but he never made it to the cabinet.
The second son of a nonconformist minister from Llansadwrn, Anglesey, Wyn Roberts recounted his early life in an autobiography that begins with a striking passage about his earliest memory - being breastfed by his mother.
He won a scholarship to Harrow and did national service. He was posted to Vienna as a member of the intelligence corps before going to Oxford, where he had a history scholarship.
He trained as a newspaper reporter in Liverpool before starting work in broadcasting, first as a journalist for BBC Wales and later in independent television. He was a founding member of staff at commercial channel Television Wales and the West.
His work in the 1950s and 60s introduced him to Wales's brightest stars - Shirley Bassey and Richard Burton - and exposed him to its darkest tragedy - the Aberfan disaster.
He gave up broadcasting for politics and won the marginal seat of Conwy from Labour in 1970, holding it until he retired from the Commons in 1997.
Labour and Plaid Cymru-supporting friends were surprised by his choice of party, he wrote later. But Labour MPs "tended to take the loyalty of their electors for granted" and Plaid's vision of independence "was a non-starter", he said.
He was appointed parliamentary private secretary to Welsh Secretary Peter Thomas in the Heath government. In opposition, he was a front bench spokesman on Welsh affairs.
After Margaret Thatcher won the 1979 election, he was made undersecretary of state in the Welsh Office where his responsibilities included the Welsh language.
S4C
The new government enflamed opinion with a U-turn over creating a Welsh-language television channel. The move was met with a threat of hunger strike by the former Plaid Cymru MP Gwynfor Evans.
The Home Office, then responsible for broadcasting, eventually gave into pressure and established S4C, but it was the prospect of defeat in the Lords that ultimately forced the government's hand, Lord Roberts later wrote.
He was the only surviving Welsh Office minister of the 1987 election. Although loyal to Mrs Thatcher she did not choose him for the cabinet. Instead, he served as minister of state under Welsh Secretary Peter Walker.
Affection for the Iron Lady had to be juggled with affection for Wales. Lord Roberts recounted a run-in with the prime minister about the status of Welsh as a core subject in the National Curriculum, taking umbrage at her charge that the "only Conservatives in Wales are the English who moved in".
The Education Reform Act passed, but the encounter made clear that despite being a supporter of Mrs Thatcher he was not one of her inner circle.
He stayed on the front bench under John Major, seeing the Welsh Language Act 1993 on to the statute book. He rated John Redwood's brains, but saw it as his duty to "watch over" him when he became Welsh secretary.
The following year was his last in government and he retired as an MP in 1997. He was ennobled as Baron Roberts of Conwy the same year.
Devolution
He opposed devolution at the 1997 referendum - as he did in 1979 - but was wary of his party leading the anti-devolution campaign second time around.
He served as an opposition spokesman on Welsh affairs in the Lords until 2007.
In 2008 David Cameron asked him to consult grass roots members on the party's policy towards devolution. His review was supposed to settle the issue for the Conservatives. But you might think his conclusion that a Tory government should hold a "root-and-branch examination" of the way Wales is governed showed devolution remained a difficult topic for his party.
Nevertheless, a version of the recommendation was adopted when the UK government launched the Silk Commission into the Welsh devolution settlement.
Lord Roberts leaves a wife, Enid, and sons Huw and Geraint. His son Rhys died in 2004.