Wales lags behind on qualifications, UCU figures show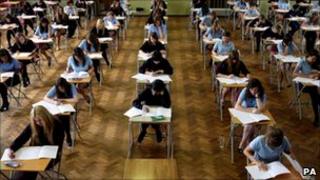 The proportion of adults without qualifications is higher in Wales than the other nations of Britain, according to figures from the lecturers' union.
In Wales, 13.3% of people have no formal qualifications, compared to the British average of 11.3%.
There are three Welsh constituencies where one in five people have no qualifications.
The University and College Union (UC) said the figures were a "wake-up call" on the need for access to education.
The UCU said the figures revealed a big disparity in educational achievement.
The UCU used figures from the Office for National Statistics to rank the 632 parliamentary constituencies in England, Scotland and Wales according to the percentage of working-age people who have no qualifications.
Twenty-nine of Wales' 40 constituencies do worse than the British average.
In Swansea East, 20.6% of people have no qualifications - the highest number in Wales - and 24th highest in Britain. Rhondda and Caerphilly both have 20%.
The figure is lowest in Alyn and Deeside, where 6.3% have no qualifications. Cardiff North and Cardiff Central have 6.5% and 6.9% respectively.
There is a big divide between Preseli Pembrokeshire, where 17.4% of people lack qualifications, and neighbouring Ceredigion, which contains Aberystwyth university, on 8%.
The proportion of people without qualifications in Scotland is 12.3% and 11.1% in England.
Matt Waddup, national head of campaigns at UCU, said: "The pattern you see in Wales reflects to some extent de-industrialisation.
"What they (the figures) show in my view is two different countries side by side, one struggling with access to education.
"I think it's a wake-up call for all politicians and policy makers that we really have to make sure that access to education is given to everybody."