Welsh farming unions unhappy at badger cull differences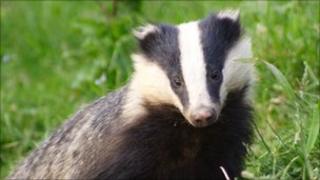 A farmers' leader is "frustrated and angry" a badger cull is set to take place in England to tackle bovine TB while plans in Wales are on hold.
NFU Cymru accused the Welsh Government of dithering, while the FUW said there was indignation among farmers.
A cull in west Wales was put on hold in June for an examination of the science behind it.
First Minister Carwyn Jones has rejected accusations of delaying tactics.
UK Environment Secretary Caroline Spelman said she was "strongly minded" to allow culling in parts of south west England following a consultation.
If that does not raise major obstacles, culling could be piloted next spring, with wider implementation in 2013.
NFU Cymru president Ed Bailey said: "This only goes to further exasperate our deep frustration and anger with the Welsh Government as it continues to dither while England and many other countries throughout the world have taken the difficult, but necessary, decision.
"English farmers can now have some confidence that at last they have a chance to get on top of and ultimately eliminate TB from their countryside."
Farmers Union of Wales (FUW) president Emyr Jones met environment minister John Griffiths at the Royal Welsh Show and called for the review to be completed as soon as possible.
Mr Jones said: "While there are significant differences between the English and Welsh badger culling proposals, the science makes it clear that both approaches can be expected to yield major reductions in TB incidences.
"Given the importance of cross-border trade between England and Wales any moves to tackle this devastating disease in England are welcome."
He said the Welsh Government's decision to review plans to cull badgers in north Pembrokeshire had sparked indignation amongst the farming community there, as incidences of the disease have not dropped.
The idea of a cull in Wales was revived in March, eight months after the previous Labour and Plaid Cymru coalition was forced to shelve the proposal following a legal challenge by the Badger Trust.
Newly-appointed Conservative rural affairs spokeswoman in the assembly Antoinette Sandbach said the pressure was mounting on Welsh Environment Minister John Griffiths.
He has asked the review panel to report their findings to him by the autumn.
"Wales was leading the way, yet now it will be playing catch-up," said Ms Sandbach, who accused Labour of "political cowardice".
Plaid Cymru's rural affairs spokesperson Llyr Huws Gruffydd AM claimed Labour was dragging its heels.
"The Labour government has shown a considerable lack of backbone by kicking this issue into the long grass," he said.
"No new evidence has come to light and therefore I can see no genuine reason for Carwyn Jones and his cabinet to have changed their mind."
But Mr Jones has rejected the claims.
He told BBC Wales: "It would have been very difficult to conduct a cull this year anyway.
"There's no doubt there would have been a legal challenge, that would have been taken us past a time when a cull was possible."
Environment minister John Griffiths said that if the review in Wales advises that a cull would benefit eradicating TB in Wales, he would do so.
The earliest time would be next year if that is what the advice suggests.
Earlier, it was announced Prof Chris Gaskell, principal of the Royal Agricultural College and a member of the Science Advisory Council for Wales, will chair the review panel.
The Country Landowners' Association Wales said there was disappointment Wales seemed to be lagging behind and that Prof Gaskell should have been appointed last month.
Its director Ben Underwood said the review panel should be four weeks into examining the science, which is already known to be robust, and not only now appointing the chair.
The Badger Trust said Ms Spelman's announcement had "submerged the issue in confusion" and would very probably damage the interests of the very farmers she is seeking to help.