David Cameron says Welsh commission will look at powers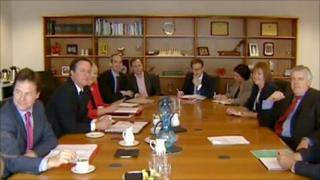 David Cameron has said an inquiry into devolution will look at the "right level of powers" for Wales.
The prime minister chaired his cabinet's first meeting in Wales on Tuesday.
The Westminster coalition government has promised a commission into how Wales's devolved administration is funded.
The Welsh Government wants powers to borrow money and reform of the formula that sets its budgets.
First Minister Carwyn Jones has also proposed devolving control of some taxes.
But his Welsh Labour administration, which receives an annual grant from the Treasury of roughly £15bn, does not want powers over income tax. It is braced for a real-terms cut in its capital budget of 40% over the next four years.
'Embed devolution'
Mr Cameron and Deputy Prime Minister Nick Clegg met Mr Jones in Cardiff Bay on Tuesday morning.
The Welsh Government used the meeting to call for a clear timetable on setting up the commission. Both sides accepted the need to move forward.
The cabinet met at the Royal Mint in Llantrisant where Mr Cameron denied that the UK government was dragging its feet on an announcement about the commission.
He said: "I'm determined that devolution will work and work well for Wales and we will be setting up a commission to look at how we can make sure we embed devolution and make sure we have the right level of powers here in Wales.
"But also, it's important we get the Welsh economy growing. We're seeing job creation in Wales, business creation in Wales and I want to make sure that the whole cabinet is here to hear about that and see what we can do to help."
He added: "I think it's important to get the cabinet out from Whitehall and Westminster and into the regions and nations of the United Kingdom and that's why we're here in Wales today.
"It's absolutely right that we're here in the place that we are going to be printing the gold medals for the Olympics, which is not just a London event but it's a UK-wide event."
Mr Jones, who last week met Chancellor George Osborne, has said he wants "consensus" between his administration and the UK government on the issue.
Critics argue the Barnett formula, which sets the budgets of the devolved administrations, does not meet Wales's needs.
An independent inquiry established by the previous Welsh assembly government warned in 2009 that the formula risked depriving Wales of £8.5bn over a decade.
Plaid Cymru said details of the UK government commission were overdue.
Plaid AM Lindsay Whittle said: "The UK government announcement has been long awaited and the future for Wales's funding arrangements has to be sorted out as a matter of urgency.
"The under funding of Wales is a severe problem which is affecting Welsh communities today and it is high time full details of the UK government's commission were released."
It is the first time the UK government cabinet has met in Wales since Gordon Brown chaired a meeting in Cardiff in July 2009.
The prime minister will address assembly members later.