Chris Bryant: MP who shed light on phone hacking affair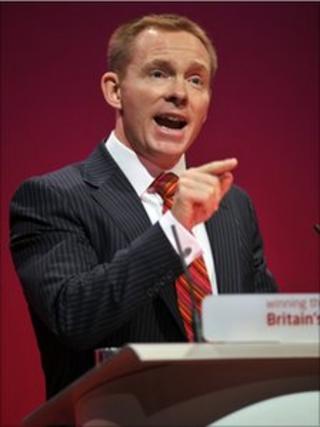 Could Rebekah Brooks have foreseen that an answer to an MP's question would come back to haunt her and her employers eight years later?
Appearing before a Common's committee in 2003, she said: "We have paid the police for information in the past."
At the time, Mrs Brooks, then editor of The Sun, might have considered the MP who asked the question to be something of an irritant. She has denied knowledge of any specific cases of payments.
But since then, Chris Bryant MP has played a prominent role in a crisis that has rocked the empire of Rupert Murdoch where Mrs Brooks is a senior figure.
On Thursday she told staff at the News of the World (NoW) that this Sunday's edition of the paper would be the last, the prime minister questioned whether she could carry on in her job as chief executive of News International, and Scotland Yard investigated alleged inappropriate payments to police officers.
Mr Bryant, Labour MP for Rhondda since 2001, has hounded NoW and the Metropolitan Police over the way it investigated allegations of phone hacking at the paper.
He is among a clutch of test cases brought by alleged hacking victims. He is also one of four people, including former Deputy Prime Minister Lord Prescott, mounting a legal challenge to the way the police handled their cases.
In May, a High Court judge ruled that their complaints could go to a full hearing.
At the time, Mr Bryant said people would be asking why the police limited an investigation in 2006 "to just a very few cases".
The public would also want to know why officers "point blank refused" to inform all potential victims and pursue every piece of evidence, he said.
'Colluded'
As pressure built on News International on Wednesday, Mr Bryant opened an emergency debate in parliament.
He said the affair had not only exposed corrupt practices in a single newsroom, but a failure of the political system. He referred to his exchange with Mrs Brooks in 2003, noting that no action was taken following her admission.
He told MPs: "We politicians have colluded for far too long with the media. We rely on them, we seek their favour, and we live and we die politically because of what they write and what they show, and sometimes that means we lack the courage or the spine to stand up when wrong has occurred."
Speaking to the BBC on Friday he described the decision to fold the NoW as a "cynical move" and was unfair to the paper's staff - the people in the "boiler room" who were carrying the can.
As this extraordinary story unfolds, it seems Mr Bryant has not lost his appetite to pursue those he considers responsible for the scandal.