No return to Welsh assembly for Lib Dems' John Dixon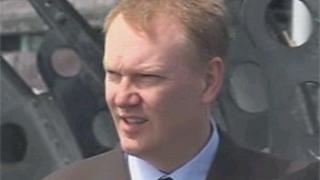 A disqualified Welsh assembly member will not regain his seat after his party withdrew a motion to reinstate him.
Liberal Democrat John Dixon stood down after May's election when it emerged he was a member of a public body to which AMs cannot belong.
An investigation said he did not check the relevant rules for candidates.
On Wednesday AMs will decide whether to reinstate fellow Lib Dem Aled Roberts who fell victim to out-of-date advice.
Mr Dixon was elected for the South Wales Central region, but had to stand down because he was still a member of the Care Council for Wales, which regulates social care workers.
On Tuesday, a report by assembly standards commissioner Gerard Elias QC said Mr Dixon had not read the regulations on proscribed organisations for candidates.
"Perhaps because he was lulled into a false sense of security by his experiences in earlier elections, he honestly believed that he was eligible to be a member of the National Assembly," the report says.
Mr Dixon, 46, a graphic and web designer, has been a Cardiff councillor for 12 years and had been an assembly candidate at two previous elections.
Writing on Twitter, Mr Dixon said: "Just to say that I need to talk to my family and friends - I'm not going to be saying anything until after the vote tomorrow."
He will be replaced by the party's number two regional candidate Eluned Parrott.
Mr Elias's investigation said Welsh-language advice from the Electoral Commission referred Mr Roberts to outdated regulations on proscribed organisations for AMs.
Although the English-language guidance was up-to-date, the Welsh-language version pointed Mr Roberts towards regulations from 2006. They were replaced by a new order in 2010.
The report finds Mr Roberts, elected for the north Wales region, "did everything that he could have reasonably been expected to do in ensuring that he was not a disqualified person for the purpose of nomination or election to the national assembly".
The Commission found out about the 2010 order in March this year after its chief executive spoke to a civil servant.
A correct link was put on the watchdog's website, but only in the English version. The Welsh-language version was wrong until 17 May - after the election.
A hard copy correction was sent to returning officers, but only in English.
In a statement, the Commission said "there were mistakes made" in its guidance for candidates.
It said the Welsh Government did not formally tell it that the rules were updated.
It added: "We regret and apologise for this very rare error and have reviewed our internal processes to ensure such an error does not occur in future."
'Rightful place'
Mr Roberts was a member of the Valuation Tribunal for Wales, which deals with appeals about business rates and council tax.
Welsh Lib Dem leader Kirsty Williams said: "I will do everything I can to persuade colleagues that Aled Roberts should take his rightful place in the assembly.
"Based on the contents of the Elias report, it is hard to see how any reasonable person could conclude otherwise."
Announcing that the party was withdrawing a motion to lift Mr Dixon's disqualification, she said he had served the public "diligently and with distinction" on Cardiff Council.
"I have no doubt that would have been an enormously effective and hard working assembly member. He is paying a very high price for his mistake.
"It is personal tragedy for him and I desperately wish that it were different. But I cannot change the facts any more than I can change the opinions of assembly members."
Mr Roberts and Mr Dixon were told they would not face charges last month following a police investigation into a complaint by United Kingdom Independence Party MEP John Bufton.