Communities First 'clusters' in revamp after criticism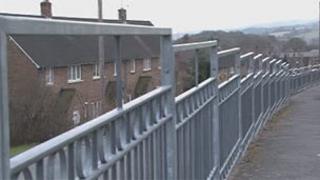 The Welsh government has promised its flagship regeneration programme will have a stronger emphasis on tackling poverty.
Ministers plan to create fewer and larger areas involved in the Communities First scheme.
Launched in 2001, it was intended to involve people in projects to regenerate deprived neighbourhoods.
But it has faced questions over whether it has delivered value for money.
Local Government Minister Carl Sargeant said that with 150 parternships covering areas of different size it has sometimes been difficult for councils and the health service to take part.
He proposed having fewer and bigger areas, known as clusters, each with a target population of around 10,000.
Launching a consultation on the scheme's future, Mr Sargeant denied that what he hailed as "major changes" amounted to an admission the scheme had failed.
"This isn't change for change's sake," he said.
"This is an opportunity now to put in place a new programme where communities can interact with government and partnership agencies to make sure they get the best of their community."
He added: "We should be celebrating the fact that we are supporting communities in Wales for the future post-2012. That's my commitment to the people of Wales."
The Welsh Government has earmarked £40m for Communities First for the next two years, down from £45m this year.
Officials said the changes were not being "driven by money" and that local communities would still be involved in running projects.
'Weaknesses'
Last February the assembly's Public Accounts Committee said Communities First had not delivered good value for the £214m of public money spent on it. It blamed problems on "weaknesses in the Welsh government's construction and management of the programme".
It followed a critical report by the Wales Audit Office the previous year.
Mr Sargeant said there would be a clear assessment of how the programme was tackling deprivation and improving living conditions for the poor.