Electoral Commission sorry for out-of-date AMs advice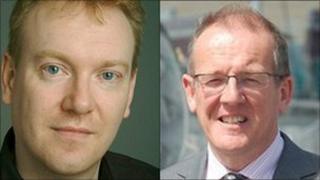 The elections watchdog has apologised after a new Welsh assembly member fell victim to out-of-date guidance for candidates and was disqualified.
An independent investigation found Liberal Democrat Aled Roberts did everything reasonably expected.
He and fellow Lib Dem John Dixon stood down when it emerged they were members of bodies to which AMs cannot belong.
The Electoral Commission apologised for a mistake in Welsh-language guidance for candidates at May's election.
But the report, which looked into the matter, said Mr Dixon did not check the relevant rules for candidates and was possibly "lulled into a false sense of security" by his experience at previous elections.
The investigation by Gerard Elias QC, the assembly's standards commissioner, said advice from the Electoral Commission referred Mr Roberts to outdated regulations.
Although the English-language guidance was up-to-date, Mr Roberts followed Welsh-language guidance that pointed him towards regulations on proscribed organisations from 2006. They were replaced by a new order in 2010.
The report finds Mr Roberts, elected for the north Wales region, "did everything that he could have reasonably been expected to do in ensuring that he was not a disqualified person for the purpose of nomination or election to the national assembly".
The Commission found out about the 2010 order in March this year after its chief executive spoke to a civil servant.
A correct link was put on the watchdog's website, but only in the English version. The Welsh-language version was wrong until 17 May - after the election.
A hard copy correction was sent to returning officers, but only in English.
In a statement, the Commission said "there were mistakes made" in its guidance for candidates.
It said the Welsh Government did not formally tell it that the rules were updated.
Once it learned of the new regulations its guidance was updated in English: "However, the Welsh language version of the guidance for candidates was not updated ahead of the election."
It added: "We regret and apologise for this very rare error and have reviewed our internal processes to ensure such an error does not occur in future."
Mr Dixon, who was elected an AM for South Wales Central, followed the Electoral Commission's English-language advice.
Although he acknowledged he had a responsibility to read the 2006 and 2010 order "he further acknowledges that at no time did he check the order (either in its 2006 or 2010 form)", the report says.
"Perhaps because he was lulled into a false sense of security by his experiences in earlier elections, he honestly believed that he was eligible to be a member of the National Assembly," the report says.
'Farce'
The Lib Dems had tabled motions in the assembly to reinstate the two on Wednesday but withdrew the motion for Mr Dixon later.
Following rumours the votes could be delayed, Plaid Cymru AM Simon Thomas said on Twitter: "If we don't sort this out this week then the returning officers should step in. Farce has gone on long enough."
A spokesperson for the Welsh Language Board said: "The case highlights a possible failure to conform to a language scheme. The board is looking into the matter."
The two Lib Dems were told they would not face charges last month following a police investigation into a complaint by United Kingdom Independence Party MEP John Bufton.
They were disqualified after it emerged Mr Dixon was still a member of the Care Council for Wales, which regulates social care workers. Mr Roberts was a member of the Valuation Tribunal for Wales, which deals with appeals about business rates and council tax.