Carwyn Jones praises George Osborne approach to funding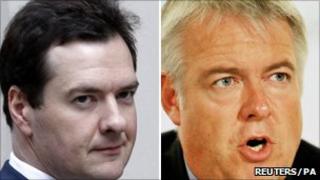 First Minister Carwyn Jones has praised Chancellor George Osborne for a "refreshing approach" in talks about the way the Welsh Government is funded.
The two met for an hour at the Treasury ahead of an announcement about a commission into funding for Wales.
Mr Jones said he expected the commission's members and chairman to be announced before the end of the parliamentary term.
Welsh ministers want control over some taxes and to be able to borrow money.
The Treasury had said Mr Osborne would be in listening mode and Mr Jones said he was open to discussing the way forward.
The Welsh Government wants the Barnett formula - which decides more than half of public spending in Wales - to be changed and to be able to borrow money to fund projects such as new schools and hospitals.
The UK government has promised an inquiry into funding, but says its priority is the UK's finances.
'Very constructive'
The Welsh Government's main demand is to change the Barnett formula which is used by the Treasury to determine the budget of the devolved administrations and which critics argue does not meet Wales's needs.
Last month Mr Jones suggested devolving responsibility for landfill tax, stamp duty land tax, the aggregates levy and air passenger duty which raise about £200m a year in Wales. Council tax and business rates are already set in Wales and generated more than £2.2bn last year.
But the Welsh Government, which receives an annual grant from the Treasury of roughly £15bn, does not want powers over income tax.
Speaking after a "very constructive" meeting, Mr Jones said: "It was very refreshing to see the approach that was taken by the chancellor.
"We talked about a wide range of different subjects and we are now going to work together to continue the process of ensuring an appropriate funding package for Wales."
The Chancellor was "not closing off any avenues", he added.
Plaid Cymru leader Ieuan Wyn Jones accused Labour of a "lack of ambition".
"Obviously we will be pressing the first minister for a full breakdown of his discussions so that they can be fully examined and scrutinised by the assembly," he said.
"The onus is on Carwyn Jones to negotiate and deliver a better financial deal for Wales."