School tests: Wales took eye off ball, says Andrews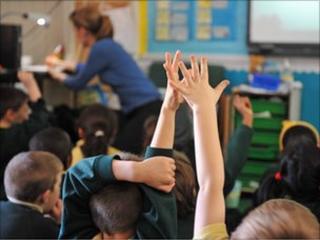 Education Minister Leighton Andrews says the Welsh Government may have taken its "eye off the ball" when it stopped standard assessment tests.
He said ministers may have failed to bring in "robust measurement" to monitor pupils' development.
The comments are made in a BBC Radio Four programme, Testing Times, made by Cardiff-born Today presenter John Humphrys, broadcast on Sunday.
In February Mr Andrews announced plans for new literacy and numeracy tests.
In the programme, presenter John Humphrys investigates whether Wales made a mistake in abandoning the tests (Sats) and school performance league tables in 2004.
Concern about the state of education in Wales was prompted in November by the findings of Pisa (Programme on International Student Assessment) that 15-year-olds in Wales were lagging well behind the rest of the UK and a number of eastern European nations.
Andreas Schleicher, head of the Paris-based organisation told the programme that "you need some benchmark for success".
"Whether abandoning those kind of assessments altogether was the right thing, that's really up for debate," he said.
"At the end of the day teachers, students, parents need to know how well they are progressing."
On Sats, Mr Andrews concedes the Welsh Government may not have put in place "sufficient ways of ensuring the judgements that teachers were making were done on a consistent basis local authority by local authority".
"That's what I am putting in place," he told the programme.
In February, Mr Andrews announced a national literacy plan, including reading tests, to be introduced by the autumn with similar plans for numeracy to be developed by the start of the 2012-13 academic year.
"We've carried out a number of important of innovations in Wales over the last decade, the Foundation Phase... the Welsh baccalaureate," he said.
"What we've got to do now is ensure we are getting robust measurement - perhaps we took our eye of the ball on that during that period."
'Huge shock'
David Reynolds, professor of education at Southampton University and a senior policy adviser to the Welsh Government, welcomed the idea of a return to some form of standardised testing as a means of pushing schools in Wales to do better.
He said the Pisa results had come as a "huge shock" to the Welsh system and had blown away what he referred to as "the cosy, Welsh producer-led consensus" in rejecting what people saw as "consumerism" in England.
He told BBC Radio Wales' Sunday Supplement programme: "There was no challenge to the system to get better… how we defined ourselves in those days was that we did in Wales everything that England didn't do.
"We didn't do league tables, we abandoned the external Sats, we didn't try new schools, we didn't do academies.
"We changed curriculums… but what matters more is how you deliver it in schools and classrooms."
Prof Reynolds said it was realistic of the minister to reject league tables in a country where 30% of children had no choice of secondary school, but lessons could be learnt from the English system.
"What I think one would want to take from England... is the notion that the education system should innovate.
"There's none of that in Wales - what we need to take is an attitude of mind that it's a good thing to do next year [something] different from last year, and that we should change."
In England, Sats are still receiving mixed reviews where, last year, they were boycotted by 4,000 schools.
A review of the tests in English primary schools is calling for changes to English tests to increase creativity, but with more focus on the basics.
Testing Times, presented by John Humphrys, is on BBC Radio 4 on Sunday, 26 June at 1330 BST.