Relatives employed by 17 Welsh assembly members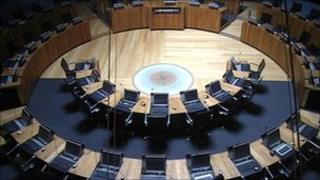 Family members were employed by 17 members of the Welsh assembly before the election in May, it has emerged.
Information on the assembly's website shows AMs from all four main parties employed their relatives.
AMs are allowed to hire relations, but final interviews are carried out by assembly personnel officials.
Campaign group the Taxpayers' Alliance said people would be sceptical about politicians employing family and said the system must be "above reproach".
A review by an independent panel in 2009 said family members should be allowed to continue to work for AMs, but added that "this practice should cease over time, in the interest of public confidence and best use of public funds".
A system of pay and expenses published in March cut AMs' role in recruiting and appointing family members. It said relatives "must demonstrably be the best candidate for the job in terms of skills, capability and experience".
Taxpayers' Alliance director Matthew Sinclair said: "Taxpayers will rightly be sceptical about AMs employing relatives."
He pointed to the case of former Conservative MP Derek Conway, who paid his son Freddie from parliamentary allowances to work part-time as a researcher while he was studying at Newcastle University.
Mr Sinclair added: "That abuse of trust has left a bad taste in the public's mouth and makes it hard for AMs to justify employment of their family members.
"The system must be above reproach and AMs must learn the lessons of the Westminster expenses scandal."
A Welsh Conservative spokesman said: "The employment of support staff is a matter for individual assembly members. The Assembly Commission has a clear set of guidelines on staff employment which all AMs must follow.
'Committed to transparency'
"Those Welsh Conservative AMs who employ family members have made a public declaration to reflect this in the register of members' interests."
The only AM to employ two members of her family was Janice Gregory, the Labour member for Ogmore: her daughter Kirsty as a caseworker and communications officer, and husband Michael as an administrator and researcher.
A spokesman for the assembly Labour group said: "Any appointment of a family member by an Assembly Member is a matter of public record and can be found in the register of interests.
"The Labour assembly group is committed to transparency and any future staff appointments will be subject to new guidelines put in place by the Independent Remuneration Board."
The only current Plaid Cymru AM to employ a family member was Jocelyn Davies, whose husband began working for her in May 2007.
A Plaid spokesman said: "The family member employed is not a new appointment and has long been a matter of public record".
A Welsh Liberal Democrat spokesman said: "The Welsh Liberal Democrats support the new rules that have now been put in place and we fully intend to abide by them".