Lib Dem AMs told no action after police investigation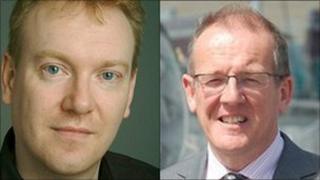 Two Liberal Democrats who were disqualified from the Welsh assembly for being members of prohibited public bodies have been told they will not be charged.
Aled Roberts and John Dixon were told on Thursday that no action would be taken following a police inquiry.
The two were forced to give up their seats for being members of public bodies to which AMs cannot belong.
The Lib Dems have tabled motions in the assembly to get them reinstated.
Writing on Twitter, Mr Dixon, who was elected as a regional member for South Wales Central, said: "Just heard from the police that there are no charges to be brought and no further investigation regarding my assembly election. Whew!"
'Honest mistake'
Mr Roberts, elected for the North Wales region in May, told BBC Wales he had been informed that no action would be taken against him.
They were disqualified after it emerged Mr Dixon was still a member of the Care Council for Wales, which regulates social care workers. Mr Roberts was a member of the Valuation Tribunal for Wales, which deals with appeals about business rates and council tax.
The party has blamed an "honest mistake".
The Assembly's Commissioner for Standards, Gerard Elias QC, will prepare a report on the two men's cases so AMs can decide whether they should be allowed to be seated in the assembly.
The police investigation started after a complaint by Ukip MEP John Bufton last month.
A Welsh Lib Dem spokesman said the Crown Prosecution Service had confirmed it would not bring charges.
"Whilst the police and CPS have concluded their involvement in this matter, there is still a process of investigation underway by the assembly," he said.
"The Welsh Liberal Democrats continue to work cooperatively with all parties involved to ensure a final resolution."