Speculation over change to badger cull plan in Wales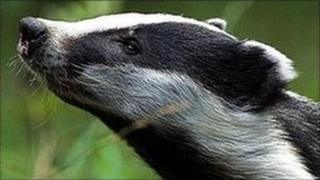 There is speculation that an announcement expected on controlling TB in cattle will mean a change in plans to cull badgers.
Environment Minister John Griffiths is due to make a statement on bovine tuberculosis (TB) policy on Tuesday.
Farming unions want ministers to stick with the cull - an attempt by the previous Labour-Plaid Cymru coalition government to combat TB in cattle.
First Minister Carwyn Jones has refused to say if the cull will go ahead.
The previous government planned the cull - advocated by then rural affairs minister Plaid's Elin Jones - alongside other measures to control TB in cattle in an area of west Wales.
The cull was revived in March, eight months after the coalition was forced to shelve the proposal following a legal challenge by the Badger Trust.
'Very grim day'
Labour, who are now governing alone, promised a "science-led" approach towards bovine TB in its manifesto for May's assembly election.
Plaid rural affairs spokesman Llyr Huws Gruffydd told BBC Radio Wales that the Welsh Government must stick to the cull plan.
"If they don't it will be a very grim day for Welsh farming," he said.
"We've been through this quite recently and the decision was made that the cull was one part of a wider programme which includes other elements like increased bio-security and tighter restrictions on animal movement."
'Horrible disease'
Liberal Democrat AM Peter Black, an opponent of the cull, said: "I hope the government is going to announce they've finally taken notice of the science, abort the cull and introduce a vaccination program.
"The impact of a cull is to spread TB. A vaccination program would reduce the instances of TB."
NFU Cymru deputy president Stephen James called on Mr Griffiths to "do the right thing", adding: "We look to the new Welsh Government to continue and progress their commitment and to now take tangible action with a view to eradicating this horrible disease."
FUW TB spokesman Brian Walters said: "The previous Welsh Government's position was based on firm science, and a protracted review of the science will only make matters worse."
Celia Thomas, chairwoman of Pembrokeshire Against the Cull, said the government should be looking at ways to vaccinate badgers.
"It's important to say we are not just sitting back. We are seriously looking at trying to get vaccination underway because TB is a huge problem," she said.
The Badger Trust said they would refrain from commenting until after the announcement was made.