£13m to tackle school drop-outs in south Wales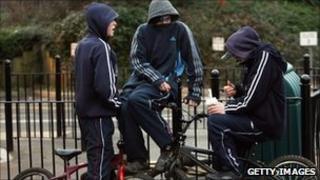 A £13m project is being launched to reduce the number of 14 to 19-year-olds dropping out of school or further education in parts of south Wales.
It will provide support and training for around 8,000 young people both at schools and outreach projects.
Welsh Government ministers say it will improve job prospects and career opportunities for the youngsters.
It is being run in the Bridgend, Blaenau Gwent, Caerphilly, Merthyr Tydfil and Torfaen council areas.
Similar schemes have run in other parts of Wales.
As of the end of June 2010, 11.3% of 16 to 18-year-olds in Wales were classed as NEETs (Not in Education, Employment or Training).
Deputy minister for European programmes, Alun Davies, said Pre-VENT 14-19 was backed by £8m from the European Social Fund.
He said it would tackle the underlying reasons why youngsters find it difficult to learn and were at risk of leaving school without qualifications or skills to find a job.
"We want to break down the barriers that prevent some young people from gaining the most of their education, and this project seeks to address the issue with the aim of reducing the number of young people becoming NEET," he said.
"Equipping young people with new skills and confidence will lead to improved career opportunities and a quality workforce."
Youngsters will be offered alternative curricula, vocational training, one-to-one support and activities to raise self-esteem.
Pre-VENT will also assist those who are not attending school or college by supporting them back into education.
It will also work with pupil referral units, youngsters leaving care and young offenders.
Bridgend's cabinet member for young people Alana Davies said: "We need to ensure we are reaching young people of all abilities.
"Being open and flexible about the routes to learning, training and employment helps us to do this."