Ieuan Wyn Jones criticised for missing Senedd opening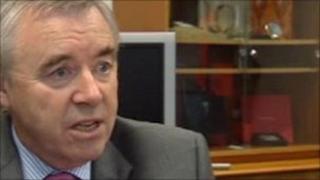 Plaid Cymru leader Ieuan Wyn Jones has been called "disrespectful" for being on holiday and missing the Welsh assembly's royal opening.
Instead, Plaid AM Jocelyn Davies took his place in the line-up of party leaders greeting the Queen.
Labour's Lynne Neagle said it showed a lack of respect to shun the opening. Welsh Conservatives called his absence "disappointing".
Mr Jones said he arranged to be away before the opening date was known.
He said: "I had already made arrangements to be away before the date for the official opening had been made and I had taken steps to inform the representatives of the royal family that I would be away during this week."
The former deputy first minister in the last Welsh government will also be absent for Wednesday's plenary meeting of the assembly, including First Minister's Questions.
The Anglesey AM is due to return to work next week.
Labour AM Ms Neagle said: "It's completely disrespectful for a party leader to shun the official opening of the fourth session of the assembly to take some time off.
"The fact that Ieuan Wyn Jones needs a rest is symptomatic of the current state of his party.
"Plaid Cymru has looked tired for a considerable amount of time."
A spokesman for the Welsh Conservatives said: "It is extremely disappointing to see the leader of a Welsh political party failing to take part in such an important and established event.
"That he is currently on holiday during term time, when he is being paid to represent his constituents in the assembly, only adds to Plaid's embarrassment."
In response, a Plaid Cymru spokesperson said: "The Tories would be better off focusing their attention on improving the disastrous policies of their own government in London, which is cutting jobs and services in communities across Wales.
"The leader's duties during the official opening were carried out by another Plaid AM, Jocelyn Davies."
Later new Presiding Officer Rosemary Butler told BBC Radio Wales that those who had not attended the royal opening "missed a great occasion".
"I would expect assembly members to attend all assembly sessions. If they choose not to then I can't make any comment," she added.
Outside the Senedd, people were asked for their views about Mr Jones' absence.
Mary Prince, 79, from Cardiff, said: "He should have been there. It looks like he is being disrespectful to the Queen."
Dave Taylor, 68, from Cardiff Bay, said it was "very bad" that Mr Jones did not attend, adding "he has a responsibility to his party and to Wales".
"This is an important event today and all party leaders should be there. It's an abdication by him," he said.
But Kathryne Sendeyo, 24, from Cardiff, said: " I don't think that's a problem, as long as someone else represents him."
Four Plaid Cymru AMs boycotted the royal opening of the assembly's new term, with some attending an alternative republican day event in Cardiff Bay.
Mr Jones announced he would stand down as party leader sometime during the first half of this five-year assembly term following his party's poor performance in May's assembly election.
He said it had always been his intention to step down before the next election.