Police investigation into two disqualified Lib Dem AMs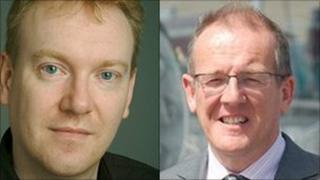 A police investigation has started into two Liberal Democrats who have been disqualified from the Welsh assembly.
It emerged this week John Dixon and Aled Roberts, elected nearly two weeks ago, were members of public bodies to which AMs cannot belong.
The joint inquiry by South Wales Police and North Wales Police is in its early stages and follows a complaint of electoral fraud.
The party blamed an "honest mistake" and said it would co-operate fully.
Mr Dixon, a Cardiff councillor, was elected on the South Wales Central regional list, and Mr Roberts, until this week leader of Wrexham council, was elected Lib Dem AM for the North Wales region.
They were disqualifed after it emerged Mr Dixon was still a member of the Care Council for Wales, which regulates social care workers.
Mr Roberts was a member of the Valuation Tribunal for Wales, which deals with appeals about business rates and council tax.
They have now both resigned from the organisations.
South Wales Police said they would lead the investigation after consultation with the Crown Prosecution Service.
The complaint came from UKIP MEP John Bufton, who wrote to the chief constables of both forces.
A separate investigation by the clerk of the assembly has been halted while police investigate.
Welsh Lib Dem leader Kirsty Williams, whose party won five of the assembly's 60 seats at the election, said: "It is a matter of regret to me that this mistake has been made and the Welsh Liberal Democrats did not have a comprehensive system in place to check our candidates against what is a long list of excluded bodies.
'Administrative error'
"We regret that very much indeed.
"We regret the fact that this administrative error was made. It wasn't made with any malice. It was a genuine mistake. There are provisions in law that allow us to rectify it."
She added: "But yes, this is an honest mistake that was made and we are now fully co-operating with both the inquiries that are going on."
Mr Bufton said: "Lots of other candidates will have given up esteemed positions and much-loved jobs in order to stand.
"It is not fair to allow these two particular prospective members to be let off the hook, even if they are pleading ignorance."
The Lib Dems initially said the matter was a "technicality" and both would be reinstated with cross-party support. But a motion that would have allowed them back into the assembly was withdrawn on Wednesday when it emerged Labour would not support it.
The former chief legal adviser to the assembly has said their election was void.
Winston Roddick QC, who was the first counsel general to the assembly, told BBC Radio Wales the participation of either men in any assembly vote could render it invalid or leave it open to legal challenge.
He said: "The law is quite plain. It simply states the election by which they became AMs was void and it's as if the election had not taken place and they had not been elected.
"What you have are two vacancies. The question is who now should be occupying these seats?"
He said the second-place candidates on the party's regional lists should take up the seats.
The second-place candidate in north Wales was former AM Eleanor Burnham who told BBC Wales she was "sympathetic and saddened that such an embarrassing mistake should have been made".
She said: "My only concern is to get this clarified as soon as possible so that whoever becomes the next North Wales Assembly Member for the Liberal Democrats is elected as soon as possible or instated as soon as possible."
Asked if she would take the seat if offered to her, she said: "I believe so. I've done it before. I've worked very hard over the last 10 years and obviously I'm number two on the list."
Presiding Officer Rosemary Butler said: "I take it very seriously because standards in public life are very, very important and the reputation of the assembly is highly significant.
"And so it really is for the members to decide how they will take this forward."