Disqualified Lib Dem AMs election 'invalid' says QC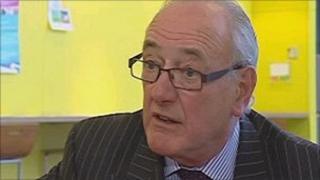 Two Liberal Democrats who have been disqualified from the assembly cannot be reinstated as AMs, according to a legal expert.
John Dixon and Aled Roberts were members of public bodies to which AMs cannot belong.
Winston Roddick QC, the former chief legal adviser to the assembly, said their election was void.
Presiding officer Rosemary Butler said it was a very serious issue and it was up to AMs how it was taken forward.
Meanwhile, Wales UKIP MEP John Bufton has referred them to the police for alleged electoral fraud.
Mr Dixon was a member of the Care Council for Wales, which regulates social care workers. Mr Roberts was a member of the Valuation Tribunal for Wales, which deals with appeals about business rates and council tax.
They have now both resigned from the organisations.
A motion at the assembly to reinstate them was withdrawn on Wednesday after it emerged Labour would not support it.
Mr Roddick, who was the first counsel general to the assembly, told BBC Radio Wales the participation of either men in any assembly vote could render it invalid or leave it open to legal challenge.
He said: "The law is quite plain. It simply states the election by which they became AMs was void and it's as if the election had not taken place and they had not been elected.
"What you have are two vacancies. The question is who now should be occupying these seats?
"Is it the person who came second in the election or should there be another election?
"My provisional view is that rather than hold another election, which I don't think they have the power to do, the person who should occupy the seat is the person who came second in the poll."
Mr Roddick said the assembly had no authority to pay Mr Dixon and Mr Roberts or to cover their expenses.
He added: "I have no doubt that this was an oversight... a law which traps the innocent or unwary is unfortunate."
But he said AMs did not have the power to vote to reinstate them.
"It's not for anyone to say forgive and forget. It's not within anyone's competence to do that."
Mr Bufton, who has written to the chief constables of North Wales Police and South Wales Police, called for the second-place Lib Dem candidates on the party's lists to take up the seats.
"Lots of other candidates will have given up esteemed positions and much-loved jobs in order to stand," he said.
"It is not fair to allow these two particular prospective members to be let off the hook, even if they are pleading ignorance."
'Period of contrition'
Lib Dem AM Peter Black has called for a "period of contrition". The party was not issuing any further comment on Wednesday night.
Former Lib Dem AM Eleanor Burnham told BBC Wales she was "sympathetic and saddened that such an embarrassing mistake should have been made".She said Mr Roberts was an honourable man with whom she had been working closely to hand over her case files. Her biggest concern was for staff who have been left in limbo.
In a statement, South Wales Police said: "We can confirm we have received a complaint and the matter is currently being given due consideration."
The assembly's clerk has been instructed to investigate the matter by Presiding Officer Rosemary Butler so AMs can be fully informed if the Lib Dems want a motion to disregared the disqualification.
Mrs Butler said: "At the moment they are not members of the assembly because the rules are very clear on elections and those rules were not complied with and therefore they are not members of the assembly
"I take it very seriously because standards in public life are very, very important and the reputation of the assembly is highly significant. And so it really is for the members to decide how they will take this forward."
She said candidates "need to be aware of exactly what is expected of them what they can do and what they can't do before they put their names forward as candidates".
Plaid Cymru AM Simon Thomas told BBC Radio Cymru: "It would be unwise for any member, new member or member of the old assembly, to vote on this matter until we have heard the legal opinion, written and in full."
A spokesman for the Labour assembly group said: "It is only right and proper that this serious matter is given full and detailed consideration."
A Welsh Conservative spokesman said: "This is clearly a very serious matter and the Welsh Conservative group is currently considering its position regarding these disqualifications."