'Contrition' plea over disqualified Welsh Lib Dem AMs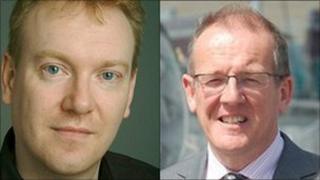 Liberal Democrat AM Peter Black has called for "contrition" after two colleagues were disqualified from the assembly less than a fortnight after being elected.
John Dixon and Aled Roberts were members of organisations which in law AMs cannot belong to.
A motion to reinstate them was withdrawn.
UKIP MEP John Bufton is to refer the matter to the police and said it would not be fair to "let them off the hook".
Labour sources indicated their members took a serious view of the rule breach and would expect both to face considerable suspensions if reinstated.
Mr Dixon was a member of the Care Council for Wales, which regulates social care workers. Mr Roberts was a member of the Valuation Tribunal for Wales, which deals with appeals about business rates and council tax. They have now both resigned from the organisations.
Previously, the Lib Dems called the disqualification "a technicality" and said both would be reinstated with cross-party support.
A motion which would have reinstated them if a majority of AMs voted in favour was withdrawn from Wednesday's plenary session. The earliest another motion can be tabled is next Wednesday afternoon.
'Distraction'
Lib Dem AM Peter Black told BBC Wales's AMPM programme: "I think it's appropriate that there is a period of contrition because clearly this has put everyone through a difficult period and the members concerned obviously have responsibility to ensure that they are eligible to stand when they stand and so I think we need to sort those issues out first.
"It is a bit embarrassing and it is a bit of a distraction. It's very important that we sort this out.
"We have two very high calibre assembly members who need to be able to take their seats - I need to work with the other parties to persuade them to support that."
Under the National Assembly Disqualification Order 2011, AMs are not permitted to be members of certain organisations to avoid conflicts of interest.
Both AMs have already announced their intention to step down from local council roles following their election to the assembly on the regional lists.
Aled Roberts, representing North Wales, was leader of Wrexham council, while John Dixon, serving South Wales Central, will give up his position as executive member for health, social care and wellbeing on Cardiff council.
UKIP MEP John Bufton said he has contacted the police about the issue, and believes the second Liberal Democrat candidates on the party lists should take up their seats.
"Lots of other candidates will have given up esteemed positions and much loved jobs in order to stand," said Mr Bufton. "That is a sacrifice many have to make."
"It is not fair to allow these two particular prospective members to be let off the hook, even if they are pleading ignorance."