Tory assembly leader 'must be decided in a contest'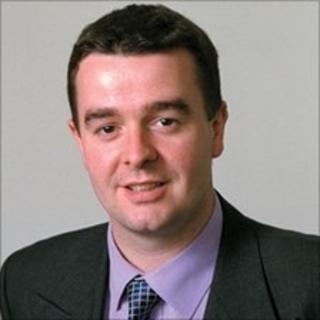 A former Conservative AM has called for a contest to decide who leads the party in the Welsh assembly.
Jonathan Morgan said Tory AMs should avoid a "grubby deal" that puts one candidate in charge.
He said his former colleagues must respect party members' desire to have a say on the future direction of the party.
Mr Morgan lost his Cardiff North seat to Labour's Julie Morgan by 1,782 votes.
He told BBC Wales's Dragon's Eye programme he had heard rumours of a "stitch up" that would avoid a leadership contest.
Asked who he would like to see in charge of the party in the assembly, Mr Morgan named AMs Angela Burns and Nick Ramsay, and said the Tories needed someone who was "moderate".
Challenged about his omission of Andrew RT Davies and Darren Millar, he said there was a risk that with the wrong candidate the party could "go backwards".
"We could revert to type, which is what the Conservative Party has a habit of doing," he said.
Both men had shown a range of skills in the last assembly, but the Tories must not "limit ourselves to a conversation about Darren and Andrew", Mr Morgan said.
Former Welsh Conservative assembly leader Nick Bourne lost his mid and west Wales regional seat in an otherwise good night for the Tories.
With 14 seats in the Senedd, the Conservatives overtook Plaid Cymru to become the second largest party.
Nominations to succeed Mr Bourne close next Monday. If there are three candidates the Tory group will whittle them down to two who go forward to a vote of party members.
Mr Morgan said: "I think we do need a contest. It's absolutely clear that there are people within the Conservative group who are immensely talented, who have a great deal to offer and what we need to do is to avoid any sort of grubby deal where only one member of the group emerges as the anointed favourite."
He suggested changing the party's constitution to officially recognise the assembly group leader as the leader of the party in Wales.
He added that while the Conservative Party might not like "the F word", he said: "A federal structure of some sort may be the answer" for England, Scotland and Wales.
Dragon's Eye is on BBC Two Wales at 1900 BST on Thursday 12 March